Hogo? Yeah, I'd never heard of it either.
Here's how David Wondrich lays out the term in his new book, Punch
, (which if you haven't bought it yet or put it in a place of prominence on your Christmas list, I'm really wondering why you have any business reading this blog):
The Victorian free-love advocate Grant Allen defined it perfectly in one of his novels, when he has a West Indian planter explain: "it's our common West Indian corruption … of haut goût – haut goût, you understand me … or hogo, being the strong and somewhat offensive molasses-like flavour of new rum, before it has been mellowed … by being kept for years in the wood and in bottle." "Hogo" was a term of art in the rum trade since at least the beginning of the eighteenth century […] Derived from the term for the "high taste" of rotting meat, it could certainly be used perjoratively. But just as one cultivated the haut goût in pheasants and other game birds by hanging them for days before cooking them, so the hogo in rum came to be appreciated and even, to a degree, encouraged.
I'd long sought a word more apt than "funky" for that characteristic found in rum (and in relatives like Batavia arrack) that is typically caustic to a novice, but that functions as an aphrodisiac for the liquid libidos of true-blue rum junkies. This gamey, squirrelly, glandular musk found in certain rums makes you better understand why rum is so closely associated with pirates and seamen of yore; geography and trade routes aside, it's hard to reconcile the high-culture character of the archetypical brandy sipper with the coarser nature of the seafaring type.
But a kind of rum that's so enthusiastically stinky that it's like a washed-rind cheese stuffed in a bottle, that you can smell a shot of from across a crowded bar and immediately identify it as the most aggressive and intimidating character in a three-block radius? Oh yeah, that stuff is pirate juice.
Hogo has been hard to come by. True, there was Pusser's, which I hadn't touched in years until I was recently served a cocktail made with it at Proof on Main in Louisville. Pusser's is fine, but it never really excited me all that much; there was also Wray & Nephew White Overproof, which I've long used as the base for my falernum, but it just doesn't have enough body to really push it into regular use.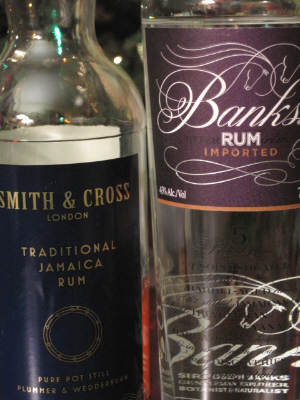 A very different case can be made for Smith & Cross Traditional Jamaica Rum, which is cane-spirit fetish porn where hogo is concerned. I had my first experience with Smith & Cross at Tales of the Cocktail in 2009; Eric Seed was pouring advance tastes of this soon-to-be-released navy-strength product, and before he could even explain what it was – indeed, before I could even taste it – I could smell the rum from five feet away, and I was immediately in love.
Hogo-ish rum got another boost this past summer, with the debut of Banks Five Island Rum. I picked up a sample at last summer's Tales of the Cocktail, but I foolishly left the sample bottle stashed away with all the other goodies I brought home from New Orleans and promptly forgot about it. It wasn't until Wondrich's piece on hogo and rum appeared in September's Esquire magazine that I remembered I had the sample, and I immediately slapped it into a daiquiri. G'damn – there's hope for white rum, yet, and the reason is in the blend: as I first learned from Wayne Curtis, one of the five islands in the name is Java, the ancestral home to Batavia arrack, a spirit that had hogo before there was a rum to get hogo about. Or something.
Anyway, enough chatter. Here are three drinks that take these rums for a nice spin.
Red Maple
by Jackson Cannon, Eastern Standard, Boston

1 1/2 ounces Smith & Cross rum
3/4 ounce fresh grapefruit juice
3/4 ounce maple syrup (maybe less – to taste)
2 dashes Peychaud's bitters

Shake well with ice, strain into chilled cocktail glass.
Look familiar? It should – this drink is promoted from the comments section for my recent post on the Honey Fitz. As Jackson noted, this is the same drink proportions, subbing out the rum and the sweetener. I was pretty enthusiastic about the Honey Fitz, so how'd this fare?
Damn, no, yes, wow — owing to the navy-strength rum and its irrepressible skunkiness, this drink has a huge, gamy flavor, but the tartness of the grapefruit and the mellow richness of the maple make its funky character approachable and, indeed, embraceable. If you're a Smith & Cross fanatic and you're trying to explain to a relative neophyte why it's such an essential part of the rum universe, this drink is a good vehicle to get them across to your way of thinking.
Speaking of Boston — here's a drink that, perhaps bizarrely, is prominent in that city's cocktail bars, but found relatively few other places: the Periodista.
It'd been a while since I tried one of these — I think not since the great apricot smackdown of whenever the hell that was — but at Tales last summer, I met Devin Hahn, who is trying to track down the story about this drink (check out Devin's blog for more details). I mentally filed the drink away, meaning to come back to it, but didn't until just a week or two ago, when Mike Dietsch blurted out his fanboy approval of the drink on Twitter, while trying a version from Misty Kalkofen that apparently was made with Smith & Cross.
This one isn't with Smith & Cross. Recipes I've seen for the Periodista are split between those calling for an aged rum, and others calling for a white rum. Knowing how much I've enjoyed Banks in daiquiri-style drinks, I decided to give it a run in a Periodista.
Periodista

1 1/2 ounces Banks Five Island white rum
1/2 ounce lime juice
1/4 ounce Cointreau
1/4 ounce apricot liqueur
1 tsp simple syrup

Shake with ice, strain into cocktail glass. Garnish with lime wedge or lime peel, if you're so inclined.
From past experience I'd recalled this drink for its lively fruity interplay worked into a basic sour context. With the Banks rum in the driver's seat, the drink has a bigger, burlier character; true, the tang of the rum's hogo is hanging in the background, but that it's present at all gives the drink more gravitas, and makes it grow up a bit more. An appealing alternative.
While thinking about this topic of hogo, and wondering what other drinks would illustrate it well, I came back to a cocktail I first learned about way back in 'ought-four, when Ted Haigh first released Vintage Spirits and Forgotten Cocktails
. Among the many drinks in that book that called for then-unobtainable ingredients, the Doctor Cocktail seemed particularly appealing: Jamaican rum, lime juice, and Swedish punch. I soon had an opportunity to try the drink, made with Appleton V/X and Carlshamm's Swedish punch, and fell in like with it — still a basic variation on a daiquiri, but the richness of the rum and the subtle gaminess of the Carlshamm's were kind of a fun diversion.
This is not the pleasant diversion recipe. With this big bottle of homemade punch in my liquor cabinet — made with the pure unadulterated hogo intensity of Batavia arrack — and a bottle of Smith & Cross right next to it, it seemed the obvious time to come back around to this drink and see what happens when you take it out on the metaphorical highway with a navy-strength rum and really open it up.
Doctor Cocktail
from Vintage Spirits & Forgotten Cocktails

2 ounces Jamaican rum (Smith & Cross)
1 ounce lime juice
1 ounce Swedish punch

Shake with ice, strain into chilled cocktail glass, garnish with lime twist.
Ka-pow! The intensity of the aroma in this drink would likely kill a vodka-tonic drinker, so be careful where you wave this thing. The richness from the rum is still there, kinda, but this is a big bundle of talkative flavor that's out for the evening and won't lay off the horn. You don't want to tuck into one of these every day, but when you do, you'll remember it for a long time — and not just because your hair will still smell like funky rum for a week after imbibing one.