There are three drinks to get through in this post — one familiar classic that I've somehow never blogged about here, two not-so-familiar variations — so let's dispense with the niceties and get right down to it.
The Negroni. A moment of silent veneration, if you please. Three ingredients, equal parts — easy to remember, easy to prepare. That each of these three ingredients seems to be custom crafted to be mixed with the other two makes this core classic all the more perfect, if you can enhance superlatives like that, which I'm not sure you can but what the hell, it's my blog and I'll do what I like.
While the Negroni is simplicity itself, it's also flexible, and you can take the basic formula, as countless bartenders have, and tweak it in any number of directions. Here's the original, to get started.
Negroni

1 ounce dry gin
1 ounce sweet vermouth
1 ounce Campari

Combine in a mixing glass and stir well with ice until chilled, about 30 seconds. Strain into chilled cocktail glass or, if you prefer, into an ice-filled rocks glass. A wide swath of orange peel is a very good idea here; give it a twist over the drink and use as garnish.
A quick note before we move on: with such simplicity and balance, you need to pay attention to your ingredients. Campari is Campari, but everything else offers choices. For the gin, go as traditional as you can; Plymouth works well if you don't want the juniper all up in your face, or go for old-school London drys like Tanqueray and Beefeater if you like that kind of confrontation. You can use a more contemporary gin if you like, but don't get all frou-frou with lavender and rose petals and cucumbers and the like; for a Negroni, the gin's gotta have some guts and gonads, and it can't shy away from being GIN, so if you want something less in the Plymouth / London dry tradition, go for something savory and full-flavored like Martin Miller's, Junipero or Voyager.
And the vermouth? Craft-cocktail types need to calm down a little when approaching this drink; sure, we all love Carpano Antica and it's so much fun in Manhattan-esque drinks, but in a Negroni it's just simply out of place (and while we're on the topic of premium vermouths, Vya Sweet? Nice stuff, but keep it away from the Negroni for the same reason). Seriously, that's not a Negroni — that's a vanilla bomb, and at that point you're hiding from the Campari (though there are exceptions, as I'll get to in a minute). And Dolin Rouge is a favorite in some quarters, but in my opinion it's just too light in character for this drink. You need a classic Turin-style vermouth (and "Antica" and history aside, the Antica formula flavor isn't typical for a Turino vermouth), with sweetness and body but not too much; while Martini & Rossi takes some licks among the liquorati, I think it has the right combination of sugar / herbaceousness that a Negroni requires, and lately I've been using Martelletti, because it's excellent vermouth and when I first found it I could only buy it by the case and I still have a shitload of it around. But really, Martini & Rossi is what you should reach for with a Negroni, and while you can argue with me all you want, I have the awesome palate of Neyah White on my side with this one, so there's no way you can win this argument — though if you want to try, go read this first and then come back to fight.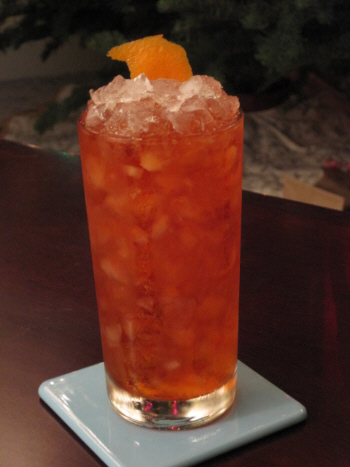 Anyway, now that you have the basic, where to go next? Let's stick close to home while still getting ambitious: the Negroni Swizzle. The recipe is from Giuseppe Gonzalez at Painkiller in New York; I'd heard about the drink for a while, then a few weeks ago I saw the recipe on Tasting Table. I finally mixed one last night and, hell: it has everything that's fantastic about a Negroni, but somehow more approachable. If you have a friend who's still a bit Campari-phobic but is willing to try, this is a great way to get them to warm up to a Negroni.
Negroni Swizzle
by Giuseppe Gonzalez, Painkiller, New York

1 ounce dry gin
1 ounce sweet vermouth
1 ounce Campari
1 ounce club soda
1 pinch salt

Fill a Collins glass with crushed ice. Add the ingredients, and using a bar spoon between your palms, spin the spoon in the mixture to combine and chill. Add more crushed ice — really, pack the fucking glass until the ice is mounded and the liquid threatens to overflow — and garnish with an orange wheel or, if you're like me and didn't leave enough room, a long, broad strip of orange zest carefully inserted down the side of the glass. Straw, please — and let it sit for a minute, to get a good frost on the outside of the glass.
The ingredients and proportions are the same as the original, with one exception: a pinch of salt (use sea salt or kosher salt; none of that iodized crap for the table). You don't want a big enough pinch for the drink to taste salty; rather, you want it to function like a pinch of salt in a bowl of soup, where it just points up the other flavors without making its presence known.
There's some club soda in there, too, which I'm not counting as an ingredient change since you get dilution anyway when you stir a basic Negroni, but between this dilution and the powerful chill that accompanies a swizzle, the drink's intensity of flavor is softened — it still has everything you're looking for in terms of Negroni flavor, but it's not as heavy on the palate and the strong flavors aren't as much in your face.
One other mixing note, however: the whole swizzle technique is used a lot when you have really powerfully flavored ingredients (like demerara rum) and/or high-proof ingredients (ditto). It's worth keeping this tradition in mind when mixing a Negroni swizzle; if you have a higher-proof gin like Martin Miller's Westbourne or, better yet, Plymouth Navy Strength, then go for it.
Okay, back to the vermouth: for anybody with bruised feelings over my dismissal of Carpano Antica for this drink (seriously, I know I'm gonna get comments and maybe a snide e-mail or two), here's an exception: swap out the base spirit, and the Carpano may have its place.
I first came across the Agavoni in Robert Hess' The Essential Bartender's Guide
, and wrote about this for Serious Eats in early 2009; since then the drink has made the rounds, popping up in the Washington Post and in Jason Wilson's excellent new book, Boozehound
, among other places. Created by German bartender / Traveling Mixologist / drinks writer Bastian Heuser, the Agavoni swaps out the gin for a silver tequila, which gives the drink a bright, peppery spark, against which a more lush vermouth such as the Carpano Antica works well. When Jason Wilson wrote this up for the Post, he suggested blancos such as Siete Leguas or El Tesoro; I couldn't agree more on those recommendations.
Agavoni
by Bastian Heuser

3/4 ounce blanco tequila
3/4 ounce sweet vermouth – Heuser recommends Carpano Antica
3/4 ounce Campari
2 dashes orange bitters
— grapefruit twist, for garnish

Build in a rocks or old-fashioned glass filled with ice. Stir briefly to mix and to chill; garnish with a grapefruit twist.
And if you're into the whole Negroni variation thing, don't forget the Boulevardier. Enough said.