Two nearly identical drinks, born decades apart, both worth visiting (or revisiting) for their simple deliciousness. I'll make this quick.
First, the classic: the Brown Derby. Vendome Club, Hollywood, 1930s; Douglas Fairbanks at the bar. We don't even know what class is anymore.
Brown Derby

2 ounces bourbon
1 ounce fresh grapefruit juice
1/2 ounce honey syrup

Shake with ice, strain into chilled cocktail glass. For honey syrup, mix equal parts honey and hot water, stir until honey is fully dissolved.
I sometimes go for a year between Brown Derby cocktails, and every time I do I wonder why it's been so long since the last time I had one. While rye is shouldering its way back into cocktail prominence, this drink is more relaxed, with the richness of honey, so the casual sweetness of bourbon is right at home. The drink is so easy to make, and the flavor is nothing elaborate, but neither is that of a daiquiri or a margarita, and how often do you visit those wells? I mixed a Brown Derby last night; remind me before another year passes that I should come back to this one again soon.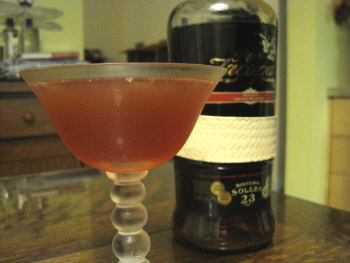 Next: the newcomer. I completely missed the Honey Fitz at Tales of the Cocktail this year. Created by Jackson Cannon from Eastern Standard in Boston, the Honey Fitz is a nod to Boston's political heritage: John F. "Honey Fitz" Fitzgerald was a congressman and mayor of Boston this time last century, and grandfather to JFK, RFK & EMK.
I didn't make it to the Diageo Happy Hour at Tales this year, so I didn't have a chance to try the drink from Jackson, so I had to wait until I was back home to come across the recipe. Fred blogged about this drink back in August, and the recipe was carried into Zig Zag one night by Alex, a local cocktail geek and a regular. One night at the bar, Alex introduced me to the Honey Fitz, for which I owe him my undying gratitude.
Honey Fitz
created by Jackson Cannon, Eastern Standard, Boston

1 1/2 ounces Zacapa 23 rum
3/4 ounce fresh grapefruit juice
3/4 ounce honey syrup
2 dashes Peychaud's bitters

Shake, strain, cocktail glass.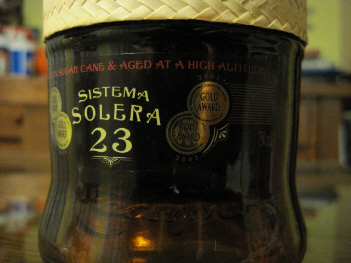 Zacapa was practically made to be mixed with honey. Already rich and luscious, the rum merges perfectly with the musky tang of honey. Grapefruit seems less acidic than lime or lemon, which would have given the drink a sharper edge, but the grapefruit leavens the sweetness just enough, while rounding out the flavor and giving the drink some brightness. It's somewhat sweet, true, but not cloying or syrupy; the Honey Fitz is just extremely tasty and goes down way too easy.