Writing about three drinks with a common element of French quinquinas may be leaping deep into cocktail geek territory, but hey — here, I'm among my people.
I've written in depth about the class of aperitif wines known as quinquinas a couple of times — here's a piece from Imbibe, and another from the San Francisco Chronicle — so I'll skip the long history lesson and get right down to the drinks.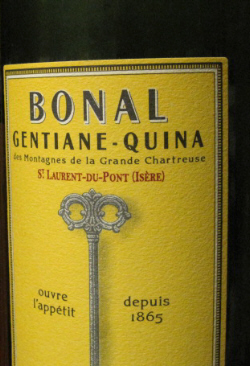 Last spring, when Eric Seed's Haus Alpenz began distributing two quinine-enhanced aperitif wines, much of the buzz in the blogosphere and beyond was about Cocchi Aperitivo Americano, long rumored in cocktail circles to be the best available substitute for the now-defunct Kina Lillet in drinks such as the Corpse Reviver #2 and the Twentieth Century. At the same time, though, Eric was also bringing in Bonal Gentiane-Quina; here's what I wrote about Bonal in the Chronicle:
Produced in France since 1865, Bonal has a double-headed bitterness from cinchona and gentian. When combined with other ingredients in a base of mistelle - partially fermented grape juice mixed with higher-proof alcohol – its character is simultaneously juicy and bone dry.
If there's a takeaway lesson I try to work in every time I write or talk about quinquinas, it's that these aperitif wines are NOT simply a kind of vermouth. Similar, yes, in the way that Maker's Mark is similar to Glenrothes in that they're both grain-based spirits aged in oak barrels, but simply lumping Dubonnet or St. Raphael in with Noilly Prat is a disservice to both sides of the aperitif-wine equation, and can only be limiting when thinking about how to use these wines in a cocktail.
But instead of lecturing, as I have the habit of doing, let me show you what quinquinas can do in a cocktail, using Bonal as the running theme. We'll start with the Bonal & Rye, from Todd Smith at Dalva in San Francisco, the recipe for which ran with my story in the Chronicle.
Bonal & Rye
from Todd Smith, Dalva, San Francisco

2 ounces rye whiskey (I like Wild Turkey 101 or Rittenhouse 100, if you've got a stash)
1 ounce Bonal Gentiane-Quina
1/2 ounce Cointreau
2 dashes orange bitters
1 dash Angostura bitters
— Orange twist, for garnish

Stir with ice, strain into chilled cocktail glass, give it a good twist of the orange peel and use it as garnish
Between the Cointreau and the orange bitters (I used Angostura orange), this is like an uber-citrusy Manhattan. The difference, however, is that while a Manhattan would have a bit more sweetness and a herbaceous finish, thanks to the vermouth, Bonal brings its juicy/dry characteristic — it lends just enough bitterness to keep this cocktail on the dry side (even with the liqueur along for the ride), but it's not an astringent bitterness — it's akin to biting into a bunch of grapes, stem and seeds and all, so there's a vibrant mix of bitterness and bright juice that makes everything balance out. A very worthwhile Manhattan relative (even if it's a distant cousin, twice-removed).
I was in San Francisco in October, and while I didn't have a chance to visit Dalva, I was introduced to another interesting Bonal drink by Jonny Raglin at Comstock Saloon. This isn't on the menu (or at least it wasn't at the time), and I'm not sure if it even has a name, but it's basically a variation on a Brooklyn cocktail with a couple of little twists.
I've always been suspicious of the Brooklyn; for some reason, the mixture of rye or bourbon with dry vermouth has never seemed an auspicious pairing to me; the floral aspects of dry vermouth always seem discordant with the rich oakiness of the whiskey, and except for the Algonquin Cocktail (which complicates the matter with the addition of pineapple juice), I can't think of another whiskey + dry vermouth drink I've particularly enjoyed.
Jonny remedied this clash by discarding the vermouth in favor of dry sherry — in his case, Lustau Palo Cortado, which is kind of a midway sherry between the bone-dry fino and the richer, nuttier amontillado. Also, since one of the Brooklyn's signature ingredients, Amer Picon, is still a rarity in the U.S., Jonny swapped it out for Bonal and added a dash of orange bitters, so there's still a little citrus ting to the drink along with a dry bitterness.
RECIPE NOTE: I didn't get Jonny's measurements from him, so I'm working with a classic Brooklyn recipe with the ingredient substitutions kept at the same proportions; it didn't taste weird when I tried it, so hopefully I'm in the ballpark.
Brooklyn variation
by Jonny Raglin, Comstock Saloon, San Francisco

2 ounces rye whiskey (I used Wild Turkey 101)
3/4 ounce palo cortado sherry*
1/4 ounce Bonal Gentiane-Quina
1/4 ounce maraschino liqueur
1 dash orange bitters
–orange twist, for garnish

Stir with ice, strain, twist & garnish.
* After 15 minutes of searching, I gave up on finding that bottle of palo cortado I bought and squirreled away somewhere, waiting for the right time to open it. Instead I used oloroso — I know, not the same, but hey — and the drink was still quite tasty, with more of that brown-butter nuttiness you get from the bigger-tasting sherry. In hindsight I should have mixed half oloroso with half fino, but I wasn't really thinking at the time.
This Brooklyn variation is much more to my taste; the sherry's nuttiness fits way better with rye than dry vermouth ever does, in my opinion, and the drink was dry but still rich-tasting, as opposed to a standard Brooklyn's tangy florals. I'll go with this version anytime.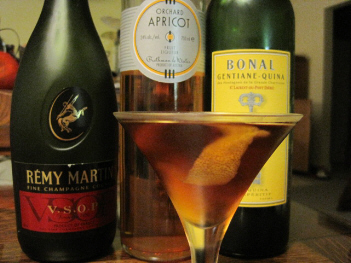 One other drink I'd gathered for the Chronicle piece, but wound up not using for reasons of space, is an adaptation of a classic Quinquina Cocktail, the renovated version developed by Chantal Tseng from Tabard Inn in Washington, D.C. Chantal says she initially found the recipe in Trader Vic's Bartender's Guide from 1947, but that it also appears in "Cocktail Bill" Boothby's World Drinks and How to Mix 'Em from much earlier in the century. This tweaked version may be my favorite of the three drinks in this post.
Quinquina Cocktail (variation)
adapted by Chantal Tseng, Tabard Inn, Washington, D.C.

1 ounce brandy
1/2 ounce apricot liqueur (Rothman & Winter suggested)
3/4 ounce Bonal Gentiane-Quina
2 dashes Pernod (I substituted absinthe)
–lemon peel, for garnish

Stir well with ice, strain into chilled cocktail glass, give it the lemon peel treatment.
This is really, really good — the plushness of the brandy and liqueur are offset just enough by the dryness of the Bonal. The quinquina's bitterness is almost completely dispelled by the other ingredients, except for a light, lingering back-palate finish that reminds you that you did, indeed, have some quinine in there somewhere. I'd like to try this with a good peach liqueur, or perhaps pear; perhaps once I'm done with this 60/30 thing, I'll have time to take this kind of scenic detour.