Unless you're one of the people who reads every cocktail blog that's popped up online over the past few years — and this may cover a good chunk of my regular readership — you may have missed a regular little gathering that happens every week called Thursday Drink Night, hosted at the Mixoloseum. The idea is simple: there's a theme (typically a particular brand or spirit, or a certain style of drink), and anyone who has some extra time on their hands logs in to the chat room on Thursday night and starts proposing original recipes along that theme, and trying recipes suggested by others. The drink quality ranges from surprisingly good to execrably vile, and once the whole boozy mess has been cleared away, a few drinks are somewhat arbitrarily selected as the best, and readers can vote on their favorites; the participant who created the winning drink is awarded, well, something.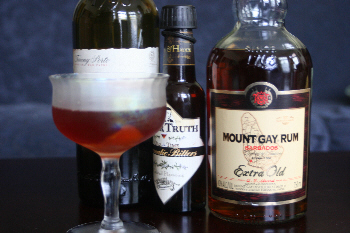 Anyway, a couple of brands recently chose to participate in TDNs with a live component held at Vessel, here in Seattle. The most recent event was sponsored by Mount Gay Extra Old Rum; here's one of the drinks that I came up with for the event that I've revisited in recent days and, in my humble opinion, ain't too bad — the dry coconut note I always get from the MGXO is accentuated by the tawny port, and the apricot liqueur adds a touch of fruity lusciousness. And the name? Stifferino was already taken, so I thought I'd reach for another bit of nonsense.
Maisy Dotes

2 ounces aged rum (Mount Gay Extra Old works well)
3/4 ounce tawny port (I used Sandeman's 10-year)
1-2 teaspoons apricot liqueur, to taste
2 dashes aromatic bitters (The Bitter Truth Aromatic Bitters are excellent here; Fee Brothers Whiskey Barrel is next-best option, followed by Angostura)

Stir well with ice and strain into chilled cocktail glass. Twist a big piece of orange peel over the drink and use as garnish.
My drink didn't win that week — hell, it wasn't even nominated; must not have used enough cinnamon syrup or ginger beer — but to my taste it has some staying power, and I can see breaking it out on occasion. Try it yourself and let me know what you think.
This drink is part of 30/30, a series of 30 drinks in 30 days — or as much as I can keep up before collapsing in a weary, booze-addled heap.