It's been quiet around here recently. Very quiet.
In case anyone was quietly wondering if I'd gone on the wagon and lost all interest in this thing, let me knock away that idea right away. Instead, I've been busy with another project — so busy in fact that I haven't even taken the time to blog about the incredible experience I had in Portland last weekend, at the Tribute to Jerry Thomas event with David Wondrich at Teardrop Lounge, and during the long aftermath of the evening in the accompaniment of drinking companions and fellow bloggers Jeff Morgenthaler, Lance Mayhew, Blair Reynolds, and the menacing Munat brothers.
What has kept me away from such things? Perhaps nothing could do this but Tales of the Cocktail.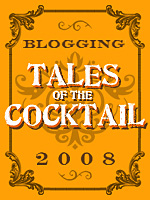 Tickets for the 2008 event go on sale — let's see; NOW! And to make this year's event even more unforgettable, around 30 of the most talented and dedicated folks in the mixological blogosphere are coming together on a little something we're calling Blogging Tales of the Cocktail: 2008.
This group blog is now running; over the next 3 1/2 months, keep an eye out for previews of Tales panels, posts from featured guest bloggers, and whatever else we decide to put up. During Tales of the Cocktail? Good lord, there's no telling what'll happen with 30 bloggers in New Orleans at a five-day event built around booze. Whatever happens, you'll find it on the site, which should be reason enough for subscribing to the RSS feed.
Anyway, that's where my free time has been recently, but now it's up to everyone else. If you're a participating blogger, THANK YOU; if you're a veteran from Tales, keep an eye out, because we'll have opportunities for you to get involved; and if you're coming to New Orleans in July, we'll keep you informed of what sessions and events you'll want to check out.
So stop by, bookmark or subscribe, and stay tuned for actual drinking business back in these parts sometime soon. Really.