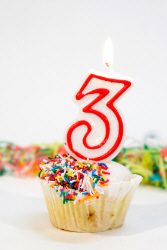 Hey, it's May 16 — three years to the day since I opened a Blogspot account and thought, "Now what? How about a drink–"
Around 280 posts and 140 drinks later, with the original Blogspot site only a distant memory, The Cocktail Chronicles is still going. Back then I felt like a sozzled voice in the cyberwilderness; now, there are dozens of drink-related blogs on the Internet, and I feel a lot less lonely when I start prattling on about rum.
That the third anniversary of The Cocktail Chronicles comes on the same day that I start my full-time writing career is a very fortunate coincidence; my intention, back then, was to give myself an outlet to hone my writing chops, and to hopefully build an online portfolio covering the fields of spirits and cocktails, that might appeal to an editor, someday. Today, I feel extremely privileged to be writing about these topics for such esteemed publications and sites as Imbibe, the San Francisco Chronicle and Serious Eats, and I hope to build on this progress in the months and years to come.
It goes without saying of course that had it not been for the generous support from readers, I would likely have given up on this blog years ago, letting it drift to the bottom of the Internet ocean like so many scuttled sites. I'd like to offer a very sincere "thank you" to regular readers and commenters for your ongoing support; your visits have kept this blog afloat, and I hope I'm able to keep giving you enjoyable content in the years to come.