I'm back, still breathing, after an unplanned two-week hiatus. During this vacation from blogging I spent a whirlwind couple of days in San Francisco, ushering out Cocktail Week at Absinthe and sitting (briefly) at Neyah White's bar at Nopa, and then spent the rest of the time diving headlong into the freelance life. But now that my Sitemeter readings are starting to free fall, and after receiving a "Dude, What's up?" e-mail from a reader wondering if I'd abandoned this thing (thanks for checking in, Joseph), I felt the need to get my act together for a few minutes and post about something worthwhile.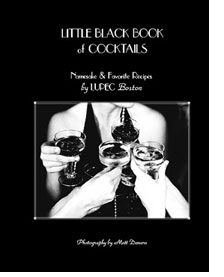 Like this: If you're at all familiar with the cocktail blogosphere, you're certainly aware of LUPEC-Boston. Now, the ladies of LUPEC-B have taken their cocktail wisdom to the print shop, and the result is the Little Black Book of Cocktails, a slim but serious volume with recipes for a selection of vintage and contemporary libations, and photos of the LUPEC-B ladies by Matt Demers.
I finally got my hands on a copy of the LBBoC, and I have to say what a fine job they've done. The book has recipes ranging from old favorites like the Monkey Gland to new favorites (around here, at least) such as the Jaguar, and after wandering through the pages I don't see a bummer in the bunch. Buy a copy from the LUPEC-Boston site, and you'll be rewarded not only with this well-considered cocktail guide, but with the knowledge that the proceeds are going to the Friends Boutique at the Dana-Farber Cancer Institute.
Reading the book also made me finally get around to mixing a drink I'd been planning to try for quite a while. While Ted Haigh addressed this in an issue of Imbibe and Erik covered it during his recent stroll through Savoy's H's, I've sadly been behind in my consumption of Hanky Pankys. But, with the LUPEC book in hand and a bottle of Fernet Branca staring at me from the liquor cabinet, I thought it finally time for a dalliance with Ada Coleman's creation.
Chin chin — and buy the book.
Hanky Panky

1 1/2 ounces gin
1 1/2 ounces sweet vermouth
2 dashes Fernet Branca

Stir well with ice and strain into chilled cocktail glass. Squeeze a piece of orange peel on top.