Tales of the Cocktail is now just a few weeks away, and Jesus, am I busy. I want to point out a few things that I'll be doing in New Orleans — such as posting updates with more than 30 of my fellow booze-bloggers at Blogging Tales of the Cocktail (coincidentally, where this is cross-posted) — and I'll start with an event I'm moderating: Making Your Own Cocktail Ingredients.
After I suggested this topic to Tales organizers, I started looking around and realizing that the sheer breadth of the types of home- and bar-made ingredients currently in use — along with those being created by bar professionals and home enthusiasts every week — would dwarf anything this panel would be able to cover in 90 minutes. Rather than aim for comprehensive coverage of the types of bespoke ingredients that are now in use, this session is designed to get the creative juices flowing for amateurs and professionals alike.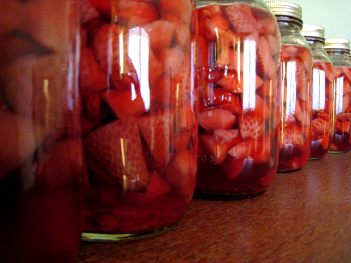 Since I can be a complete doofus in person and especially in a public presentation, I invited three remarkably talented panelists to help flesh out the session. Erik Ellestad and I will cover the home enthusiast's end, with examples ranging from simple but tasty infusions — that's a boatload of Tequila por Mi Amante in the photo, soaking away in preparation to being poured for whoever shows up — to compound syrups (falernum! orgeat!) and house-made liqueurs such as Swedish punch; we'll then kick it over to the pros: John Deragon from PDT in New York and Jamie Boudreau from … uh, his apartment in Seattle, I guess … who will cover house bitters, fat-washing and more complex ingredients such as Jamie's vintage Amer Picon replica.
We'll be mixing a few cocktails and pouring a few samples, and unless you've given a few of our recipes a spin, you're likely to encounter a whole bunch of flavors you've never come across before. Our sponsors for the event are Death's Door Gin and Partida Tequila — special thanks to Jacques B. for helping me score a shipment of reposado with which to lay some TpMA on the crowd — and, assuming I ever finish my presentation, it should be a great event. If you're in town, be sure to grab a ticket and come see what we're pouring.
Making Your Own Cocktail Ingredients takes place Saturday, July 19 from 4:30 to 6:00 pm at the Hotel Monteleone; tickets may be purchased here.