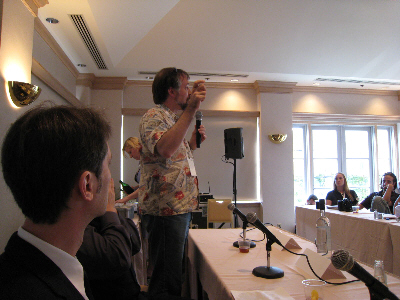 Tales of the Cocktail is a much different experience when you find yourself on the other side of the presenters table. Instead of just freewheeling it around like you've done on other days, you actually find yourself in work mode, busy and slightly stressed, and stone-cold sober (or close to it) at an event dedicated to booze.
Like last year, I worked two panels at Tales this year: the first, on Friday, was "Cocktails With a Kick: Absinthe Returns to America," and the second, on Saturday, was "Making Your Own Cocktail Ingredients." And despite an assortment of unexpected challenges ranging from a chronic and near-catastrophic shortage of bartenders and drink-mixing equipment to the sudden loss, and then regain, of a panelist, from where I sat — up in front of packed, 150+ crowds for both sessions — they both came off pretty well.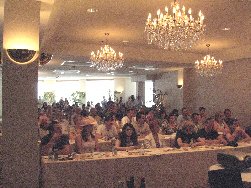 It's safe to say I prepared more for the absinthe session — no wonder, I had a 30+ slide presentation on vintage absinthe cocktails, along with details from old humor books and morality missives that I thought worked well with the idea of historic absinthe cocktails. For this session I had the great fortune to be paired with co-moderator Gwydion Stone, of the Wormwood Society and Marteau Absinthe, and to be joined by Jim Meehan, general manager at PDT in New York. Gwydion set the stage by talking about absinthe as a spirit, and its distinctiveness as a category, and Jim followed my presentation with a look forward, at how we can move forward with new absinthes coming on the market.
The session hit some problems about an hour before we went on; due to a shortage in personnel, it turned out we had nobody to mix drinks for the crowd, so we began cutting drinks from the list, and at one point Jim told me I had the choice of mixing drinks or talking. Fortunately, though, he managed to wrangle two fantastic bartenders from Los Angeles to man the kitchen, and he spent the better part of the session getting drinks out to attendees. For my part, I lost my place a couple of times during my presentation, plus I realized at one point that I was speeding through and would be done in much less than my allotted time, so I may have wandered a bit while trying to fill up space, but I managed to not break down and start babbling like an idiot before I finished my Powerpoint.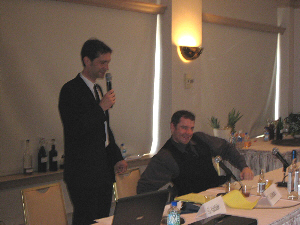 The "Making Your Own Ingredients" session faced many of the same challenges, but fortunately this time I knew they were coming: initially we had no staff to mix drinks, so I recruited volunteers before discovering that we didn't even have basic things like cocktail shakers to use. Fortunately I had a lot of support, so the panel participants batched their own drinks, Daniel from PDT stepped in to mix, and we recruited Keith Waldbauer and Zane Harris to help him get drinks out to the crowd; up front, Heather (Tiki Mama) volunteered her services to pour Tequila por mi Amante, falernum, orgeat and bourbon for everyone.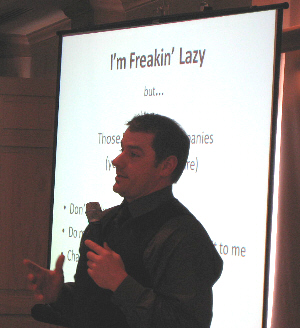 Complicating matters further, one of the panelists, John Deragon from PDT, was participating in the Cocktail Apprentice program, and about an hour before the session he realized he wouldn't be able to participate. He arranged for Daniel to fill in in the kitchen plus talk about the bar's fat-washed bacon bourbon, and recruited Robert Hess to step in and talk about Abbot's bitters. Crisis just barely averted and with the panel running on rims, we had to just dive in and see what happened — fortunately, the nervous energy translated into a really lively session, and panelists Erik Ellestad and Jamie Boudreau had some fantastic drinks and some good pacing to keep things moving along. Just an hour before the session I was convinced it was headed for disaster, but somehow — SOMEHOW — it came together great. And to top it all, by the last 15 minutes John Deragon was able to tear himself away from the pastry kitchen, and before the bloodhounds could find his trail, he was able to talk about his fantastic recreation of Abbot's bitters that we served earlier in a 50-50 Manhattan.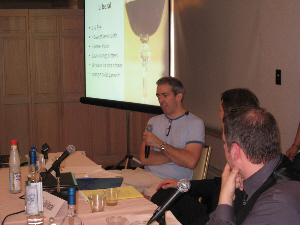 That's my perspective, anyway — I dunno, maybe from where you were sitting we looked like a bunch of idiots. Anyway, if you were at one or both of the sessions, thanks for coming and I hope you enjoyed the drinks; and if you weren't there, then … I guess we'll see you next year.