I'd like to write about all the great drinks I enjoyed in New Orleans, but to be honest, after the first couple of Sazeracs everything started running together until, a week later, I boarded the flight home, still bleary eyed and happy and reeking only slightly of absinthe. God, I love New Orleans.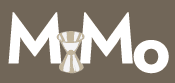 Before Tales of the Cocktail, I had the bright idea of hosting the Mixology Monday on the Monday following the event; then, it'd be easy enough to just slap together all the posts on drinks that bloggers were putting up at Tales Blog during the event, along with those from folks who couldn't make it, and we'd all be done by the time the Tales hangover wore off.
Of course, I wasn't counting on the royally uncooperative wi-fi at the Monteleone, and the sheer volume of events and distractions that kept me and a good majority of the other bloggers away from our computers until we were safely back at home. Somewhere around Thursday I realized that it was better to be out drinking and eating and talking and schmoozing than to be tapping at my keyboard, and while those of you who couldn't come to New Orleans had to contend with a lull in posts, I can say with a good deal of certainty that I'm the better off for it.
Here's proof. Before heading to New Orleans, I checked in with Chris Hannah at Arnaud's French 75 bar to see when he'd be working. Chris has earned a reputation as one of the top bartenders in the city, and I couldn't miss the chance to visit the French 75 — easily one of the most beautiful and historic bars in a city filled with them — while Chris was on duty. I dragged a contingent of booze geeks to the bar on Tuesday, the first night in town for most of us, but we just missed Chris (though we did have some great drinks in the beautiful bar). On Friday I had better luck, and fortunately had the mind to put my choice of drink in his hands. Here's what he came back with:
Bywater, an original drink by Chris Hannah, Arnaud's French 75 Bar, New Orleans

1 3/4 ounces Cruzan 5-year-old rum (Chris suggests the Cruzan Single Barrel as a suitable replacement)
3/4 ounce Amer Boudreau (housemade Amer Picon replica, using Jamie Boudreau's recipe)
1/2 ounce Chartreuse (yellow, I'm assuming)
1/2 ounce Falernum (housemade, I'm guessing, using the recipe that ran in Imbibe last summer)

Stir with ice & strain into chilled cocktail glass.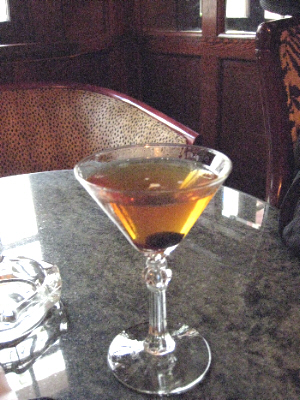 The bar was humming during my visit, so I didn't get much of a chance to chat with Chris, but he kindly provided this recipe. I'm assuming he used yellow Chartreuse, as the green has the habit of walloping both the drinker and the flavor of the cocktail, whereas the Bywater has a nice balance; and a housemade falernum made with fresh lime juice. I tried one of these at home using the Falernum #10 that I poured during the "Make Your Own Cocktail Ingredients" session; this version doesn't call for fresh lime juice, and I found the drink needed just a little splash of acid to keep the sweetness in check. Though really, that's kind of the beauty of this kind of drink, that uses not just one but two homemade ingredients: to position the flavors of the cocktail just so, you have the opportunity to not only adjust the levels of each ingredient, but to tinker with the flavors of the ingredients themselves to custom-craft a good drink, as Chris masterfully did with the Bywater.
The drink takes two divergent but not dischordant courses: first, you have a very gentle, vanilla-ey rum paired with the island-punch sweetener falernum; but then, you introduce two very complex and very resonant French (or French-style) ingredients, that introduce high bitter-orange notes and a mid-range light bitterness, with the elaborate floral and herbal characteristics of the Chartreuse.
The cocktail is named, of course, for the Bywater neighborhood in New Orleans, part of the Ninth Ward. I figured plenty of folks would be coming to this month's MxMo armed with Ramos fizzes and Sazeracs, and I wanted to have a fantastic contemporary cocktail with strong New Orleans roots. The Bywater certainly fits the bill.
And since many of this month's participants seem to be taking the Tales-style two-fisted approach with their entries, I should follow suit with the cocktail Chris poured me after I polished off my Bywater. This time, rather than try to explain it in a crowded, noisy bar, Chris simply handed me a copy of the Food & Wine Cocktails 2008 book, which includes this original recipe:
Accoutrement

2 ounces Calvados
3/4 ounce Strega
1/2 ounce Creole Shrubb
3/4 ounce fresh lemon juice
2 dashes Peychaud's bitters

Shake well with ice and strain into chilled cocktail glass; garnish with brandied cherries.
Between the Calvados and the Creole Shrubb, I was hooked. Calvados makes some incredibly complex and evocative cocktails, and the gentle spice of the Shrub and the Strega really make this an elegant drink.
I've had plenty of lackluster cocktails in New Orleans at previous Tales of the Cocktail; this year, the general level of quality was notably improved, but when I positioned myself at Chris Hannah's bar and let him show me what he had, I was absolutely blown away. I know where I'm drinking next year.
I've lost count on how many bloggers have joined in this Mixology Monday; I know it's huge, though, so keep an eye out for the roundup in the next couple of days.