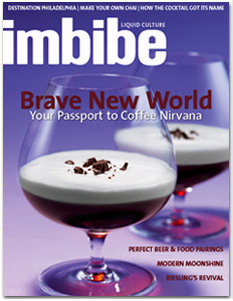 The latest issue of Imbibe is out, and this one features an article I wrote on a topic that has held my interest for a while: home distilling, aka "modern moonshine".
I've sampled a number of what are delicately referred to as artisan-crafted spirits in recent years, but it wasn't until last summer at Tales of the Cocktail that I had a chance to see the level of interest that had developed around home distilling. In one of the large conference rooms at the Hotel Monteleone — rendered especially fragrant by the funky heads and tails of a still run that had been brought in earlier for demonstration purposes — Matt Rowley, Mike McCaw and Ian Smiley covered the topic of homemade spirits (or as much as they could of the topic in the 90-minute slot) in front of a fairly packed crowd. (Mike Dietsch provided a very extensive preview of the session over at Tales Blog; his posts are here, here and here.)
I left the room hoping to write an article on the topic and now, finally, it's in print. I had the great pleasure of interviewing Rowley and McCaw for the story, along with several home distillers whose identities are probably best kept secret for now. I also look at the arena of so-called "legal moonshine", since several brands describing themselves as such, or deriving from the moonshine tradition, appear in liquor stores across the country. I found little that was noteworthy about most of these brands, although several white-dog whiskies that are arguably in the moonshine tradition are pretty exceptional: my favorites were the Old Gristmill Authentic American Corn Whiskey from Tuthilltown Spirits, and an unaged wheat whiskey being produced by Death's Door Spirits.
Unfortunately, there wasn't room in the article to cover some of the useful resources that are out there for aspiring home distillers; I'm pasting below the sidebar that was to be included in the story (updated for use online), but didn't make it into print.
Be sure to check out the March/April issue of Imbibe, or better yet — subscribe
.
There are a number of valuable resources to help today's hobbyist distillers get started. Keep in mind that in the United States and Canada, distilling without the proper permits is illegal and the penalties can be severe; furthermore, failure to take adequate safety precautions can result in fire or explosion, and poorly produced spirits can be toxic. Hobbyist distillers are highly encouraged to do their homework on the legal and technical aspects before getting started.

Matthew Rowley's book, Moonshine!, provides not only valuable history on home distilling, but also contains useful instructions and recipes. The Compleat Distiller, by the Amphora Society's Mike Nixon and Mike McCaw, covers the essential details regarding distilling of all types, and is an invaluable resource for distillers of all levels of experience; copies may be purchased at amphora-society.com.

Experienced distillers have a valuable online resource in the Yahoo Distillers Group, and beginners have the similarly useful Yahoo New Distillers Group. A New Zealand-based hobbyist runs the extensive online resource Homedistiller.org, which features information on techniques and equipment along with a home distiller wiki and online forum. Books, technical papers, articles and other resources on home distilling are available at The Alcohol Library: distillers.tastylime.net/library/.