Last week, I was hurting. Over the weekend, a stomach bug knocked out both me and the missus, and I spent the better part of two days flat on my back, trying to sleep so I wouldn't feel like barfing. Tuesday was a lot better, though, and by Wednesday I was trying to get my system back in gear, eating food had made me gag only a couple of days before, and that evening getting ambitious enough to see how I might do with a cocktail in front of me.
In my delicate condition, I knew it couldn't be just anything — something too bitter or sweet might spark the nausea that was still not too far behind me, and a power-blaster like a Manhattan might just kill me. No, I needed something medicinal, so I asked Murray at Zig Zag for his own take on the Penicillin.
As I mentioned when I first blogged about the Penicillin, it's a fantastically tasty drink, and my main regret was that I'd let the recipe languish in my notebook for so long before getting around to trying it. After I wrote about it, however, Murray offered me his variation: while still very much in the character of the scotch-based original, this version is based on tequila, with agave nectar and a good splash of house ginger-beer concentrate in place of the ginger-honey syrup. I always manage to miss exactly what tequila he uses for the base, but I believe it's a reposado; then, for the float, he typically utilizes several different reposados (though one night Erik Hakkinen used the fragrant silver Agua Azul from St. George as a float, to very good effect).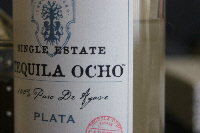 After I initially tried this version, I kept wondering how a mezcal float would work on the drink, so I started mixing them at home. Utilizing lime in place of lemon (because it's tequila, and, y'know), I also took the pointer offered by that sage o' the booze Sam Kinsey in the comments to my Penicillin post: instead of going through the process of making a ginger syrup, I simply cut a few good chunks of fresh ginger and muddled the hell out of them in the mixing glass. I've been using a fruity blanco for the base — recently the plata single estate from Tequila Ocho, because, well, they sent me a bottle and it works really well in this drink — and a float of Los Danzantes mezcal, which contributes an incredibly potent smokiness to the drink that is just mouthwatering.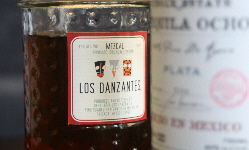 This is one of my current favorite cocktails, and with the range of different tequilas on the market right now, I can see myself working through different variations with different styles of tequila. That's a testament to the utility of the original Penicillin recipe: it's so wonderfully versatile, you can keep coming back to it and discover something new each time.
Usually I just order "that Penicillin tequila thing" at Zig Zag, but since that's kinda long and I don't know if they've shortened the name in any way, I'm just gonna go with the Spanish spelling of penicillin for this post. You wanna make something of it?
Penicilina

2 ounces tequila (blanco or reposado, depending on your mood)
3/4 ounce fresh lime juice
1/2 ounce agave nectar
3-4 thick slices fresh ginger
1/4 ounce mezcal or fragrant tequila, for float

Place ginger in a shaker or mixing glass and muddle into paste. Add tequila, lime, agave nectar and ice and shake like hell for 10 seconds. Double-strain through fine-mesh strainer into chilled cocktail glass. Float mezcal on top of drink, using a barspoon. Take a good whiff, and smile.
This drink is part of 30/30, a series of 30 drinks in 30 days — or as much as I can keep up before collapsing in a weary, booze-addled heap.