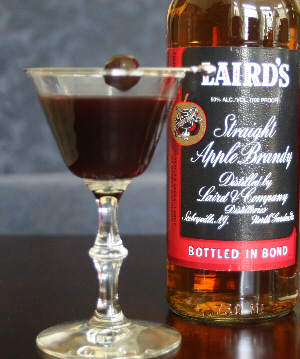 Way back during the dark ages of mixology, when decent sloe gin was as hard to find in the U.S. as gas under $3 — and here we're talking about a year or so ago — this drink never would have caught my attention. Hell, even after Plymouth started distributing its sloe gin, I breezed right over this recipe in The Savoy Cocktail Book
, discounting it because of its deceptive simplicity: two ingredients in equal parts, both fruity and boozy — where's the appeal?
That was a mistake. After seeing the Savoy Tango recommended on the boards over at eGullet, one night late last summer I broke out the Laird's Bonded Apple Brandy and gave the drink a whirl; by the time I'd made it through half the glass, I had a new favorite cocktail for the fall.
At the time I was working on a story about Plymouth's sloe gin for an upcoming issue of Imbibe; not wanting to scoop my own story, I stifled any posts about drinks made with sloe gin until the piece came out in November, and by that point I'd pretty much moved on to other things. Hence, the drink is just now making its way onto the blog, and while the rich stone-fruit flavors hint strongly at autumn harvest, this is such a crisp and flavorful drink that I hope you give it a spin despite the season.
Savoy Tango

1 1/2 ounces sloe gin
1 1/2 ounces Calvados or apple brandy (Laird's bonded works wonders in this drink)

Stir ingredients with cracked ice and strain into chilled cocktail glass. Garnish with a cherry, if that's your thing.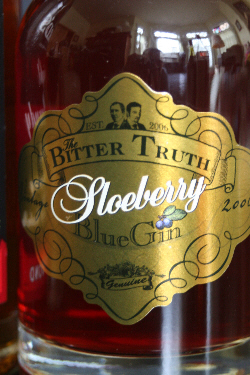 Plymouth's sloe gin is still available only in limited distribution, but since it's come on the market the booze world has been blessed with one additional sloe gin that's absolutely a knockout: one from the guys at The Bitter Truth, who partnered with Austrian distiller Hans Reisetbauer to make this fantastic product (full disclosure: a sample was provided by The Bitter Truth). True, you'll need to order The Bitter Truth sloe gin online (though products such as their bitters are increasingly available in the U.S.), but it has an arresting complexity that, along with the crisp freshness it shares with Plymouth's sloe gin, helps make up for all those years of low-rent sloe gin that we had to put up with for so long.
This drink is part of 30/30, a series of 30 drinks in 30 days — or as much as I can keep up before collapsing in a weary, booze-addled heap.