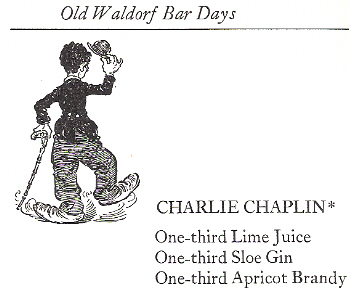 While I'm spouting off about drinks made with good sloe gin, I should bring up the Charlie Chaplin. This recipe comes from Old Waldorf Bar Days
by Albert Stevens Crockett, first published in 1931. Crockett indicates this is an original drink from the Waldorf, "named in [Chaplin's] honor when he began to make the screen public laugh."
This was another drink I'd overlooked when Plymouth Sloe Gin first came on the market, based on a quick read of the recipe: equal parts sloe gin, lime juice, and apricot brandy (a bit of a misnomer; usually "apricot brandy" refers to an apricot liqueur, not an apricot eau de vie). The combination looked way too sweet, so I tut-tutted and moved on with my recipe search. Thanks to Los Angeles uber-bartender and consultant Marcos Tello, who I spoke with while working on the sloe-gin story for Imbibe
, I went back and took a closer look, and was pretty damn pleased with what I found.
Here's where I initially went wrong: I approached this, and other sloe-gin recipes, with a flavor profile in my mind that was based on the cheaper versions of the spirit, which are usually oversweetened and mawkish. While I had that flavor in mind, thinking of a drink made with sloe gin and another liqueur made me want to drop the book and brush my teeth.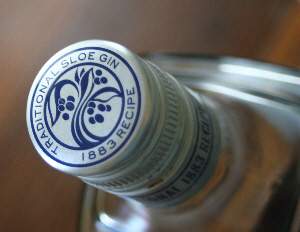 But a good sloe gin such as those from Plymouth or The Bitter Truth have a flavor ruled by the tart, astringent quality of the sloe berry, without the heavy sweetness found in lesser sloe gins. Combined with a good ounce of lime juice and an apricot liqueur such as the Rothman & Winter Orchard Apricot, which is less sugary than some other brands on the market, the Charlie Chaplin is crisp and tart, with a rich stone-fruit flavor akin to that of the Savoy Tango that makes the drink so endearing.
Charlie Chaplin

1 ounce sloe gin
1 ounce fresh lime juice
1 ounce apricot liqueur

Combine ingredients in a cocktail shaker and fill with ice. Shake well and strain into chilled cocktail glass.
This drink is part of 30/30, a series of 30 drinks in 30 days — or as much as I can keep up before collapsing in a weary, booze-addled heap.