It's been a while since I've fully visited the range of drinks that were variously known as corpse revivers, fog cutters, gloom chasers and what have you — regardless of the moniker, the drinks that were designed to be consumed at a relatively early hour to dispel the effects of a long night before.
Thanks to Ted Haigh — who propelled the Corpse Reviver #2 out of obscurity and into ubiquity (at least at craft-cocktail establishments) when he included it in Vintage Spirits and Forgotten Cocktails
, now poised to retake the bibulous world in an expanded edition — the corpse reviver category has (sorry) returned from the dead. Somewhat, that is.
For there to be a #2, there has to be a #1 — but as with many freshman efforts, the initial entry into the category (at least, the one that was dubbed #1 in 1930s bar manuals by Harry Craddock and Patrick Duffy) has been overshadowed by its more illustrious successor. In the case of the Corpse Reviver, this is as it should be — while version #1 is certainly nothing to sneeze at, it lacks the delicacy of the #2; plus, if the directions are followed to the letter, it's an ass-kicker. Let's take a quick look —
Corpse Reviver #1

1 1/2 ounces brandy
3/4 ounce apple brandy
3/4 ounce sweet vermouth

Stir well with ice, strain into chilled cocktail glass. Hit it with a lemon peel, if you like.
Short, sharp and strong — not bad, but nothing that remarkable. No wonder it faded.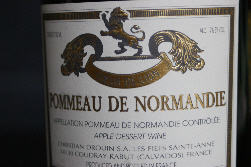 But, a year or so back, I was served a variation on this drink by Jamie Boudreau. Jamie freshened up the CR1 by using pommeau de normandie in place of the apple brandy; this reduced the alcohol level of the cocktail, making it a bit more managable, while also bumping up the fruitiness factor without adding extra sweetness. Rounded off with peach bitters and Angostura, and the Corpse Reviver #1 had a — sorry again — new lease on life. Here's Jamie's version, the Naramata:
Naramata

1 1/2 ounces cognac
1 oz sweet vermouth (Cinzano recommended)
3/4 ounce pommeau de normandie
2 dashes peach bitters
2 dashes Angostura bitters

Stir well with ice, strain into chilled cocktail glass. Flame an orange twist over the drink and use as garnish.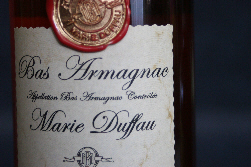 I tried a few versions of this drink; while the impulse is always there to reach for a premium vermouth like Carpano Antica, it most assuredly does not work in this cocktail. The Antica has such a strong flavor that it overwhelms the pommeau; instead I used Martini & Rossi as it's my workhorse sweet vermouth, and it seemed to work well in this drink. Also, I eschewed the cognac recommendation and instead went with Armagnac, reasoning that the more rugged, earthy flavor could lend an interesting angle to the drink. I doubt I could tell a Naramata made with cognac from one made with armagnac in a blind tasting, but the Armagnac did its job well and I have no complaints.
Anyway, this is another drink I've been thinking about for a long while, dusted off for the new millenia.
This drink is part of 30/30, a series of 30 drinks in 30 days — or as much as I can keep up before collapsing in a weary, booze-addled heap.