We've come across them before: the Blood & Sand, the Last Word, the Cameron's Kick — drinks that look like a train wreck on paper, but in the glass, have a lot more character than you'd think.
The White Lily isn't quite in the same class as these three cocktails, but for something that looks nigh-untouchable in print (at least to me), it actually ain't too bad.
The recipes comes from that old standard, The Savoy Cocktail Book
, and hits a couple of unpredictable points for me: first, it successfully combines equal parts rum and gin, which is quite a challenge; second, it matches rum and absinthe, another infrequent pairing.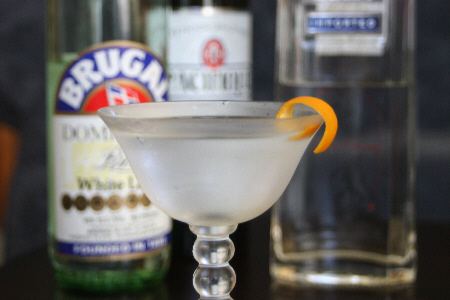 I first tried the White Lily last month, at the Green Hour event hosted by the Wormwood Society. Gwydion had listed it as a drink he'd like to serve, so I mixed one for myself, just to see what we'd be in for. It's actually a fairly nice drink; the base spirits are the only drying agents, so the Cointreau places the drink on the sweet side (but not excessively so), and the absinthe serves its seasoning-ingredient role well. This is a case like the Corpse Reviver #2 in which you only want to use the merest dab of absinthe — too much and it easily takes over — but a few drops or a judicious dash and it helps tie everything together. For this version, I used Brugal white rum and Martin Miller's Gin, which has recently supplanted Bombay as one of my default mixing gins.
White Lily

1 ounce gin
1 ounce white rum
1 ounce Cointreau
1 dash absinthe

Combine ingredients in a mixing glass and fill with cracked ice. Stir well and strain into chilled cocktail glass. Garnish with orange twist.
This drink is part of 30/30, a series of 30 drinks in 30 days — or as much as I can keep up before collapsing in a weary, booze-addled heap.