(Running into the evening with this 30/30 post, but it's still Wednesday where I live, so all's fair….)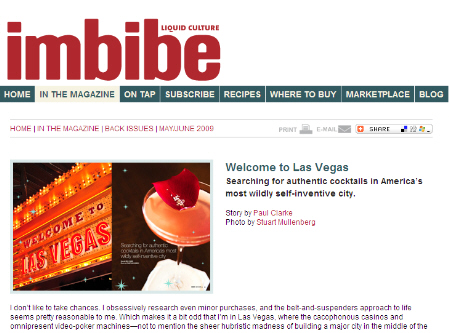 A few months ago the good folks at Imbibe sent me to Las Vegas, a city that's diametrically at odds with just about everything about me: I'm normally pretty quiet and subdued, I'm practically allergic to big party atmospheres, and gambling is one of the few vices that's never really interested me. But I was being sent to Vegas to drink — or, to put it less dramatically, to visit a bunch of bars and restaurants and find out who was pouring some of the best stuff, from beer to booze to cocktails — and then write it up for the magazine; the May/June issue, to be specific, which is now on subscriber's coffee tables and on newsstands all over the place.
While I did plenty of research beforehand, I was really fortunate to have a couple of volunteer tour guides accompany me on my rounds. My first night in town, Bellagio bartender and helluva nice guy Sean Bigley (who's also behind the Ultimate Bar Chef website) took me to a number of different bars and introduced me to a number of great people, from Patricia Richards at the Wynn (who I'd met a couple of years ago when she was representing the US Bartender's Guild at the Bacardi-Martini Grand Prix in Italy) to George Sproule at Downtown Cocktail Room, to Vegas bartending legend Bobby G, who we ran into at the bar at Nora's Cuisine. Sean and I soaked up some excellent, some mediocre, and some downright awful drinks around town,  while Sean gave me an evening-long tutorial about bartending in Las Vegas, explaining as he went why it's considerably different from working or drinking in any other city in the world.
My second night in town, after gawking at the extensive cognac, armagnac and calvados selection at Andre's at the Monte Carlo (and tasting a wee bit), and at the scotch selection at Craftsteak at the MGM Grand (and ditto, along with hitting a few other bars on the way, for research purposes), I had a seat at the Fontana Bar at the Bellagio, where Sean works. While waiting for Matt Robold, aka Rum Dood, who was joining me on an excursion to Frankie's Tiki Room, I asked Sean to make me one of his signature cocktails; this is what he came back with.
Sean's drink, By Any Other Name, was originally created for a Hendrick's Gin competition. Matching the gin's notable cucumber and rose-petal characteristics with the florals found in St. Germain, and running with the floral theme through the introduction of a good dose of Sence Rose Nectar, the cocktail is elaborate yet light in flavor. When Sean broke out the Sence, I got a little nervous; I'd tried working up cocktails with rosewater and rose syrup before, only to be continually frustrated by these ingredients' tendency to turn a complex cocktail into something that tastes like your grandmother's soap. The rose nectar, however, is a much lighter-flavored product that manages to avoid that soap-like flavor (plus, it's distributed at gourmet food stores and high-end supermarkets around the country; I picked mine up at Metropolitan Market in Seattle, but if you can't find it near you, you can order it from Sean's website). Sean uses a whole 2 ounces of Sence in this drink, but the rose flavor comes nowhere near dominating the cocktail. Overall it's a really enjoyable drink, and if you go all out with Sean's recommended garnish of an edible rose petal dusted with edible silver flake, it's absolutely beautiful as well (I gave up on even trying to photograph this one; instead, check out Stuart Mullenberg's awesome photo of the drink that appears on the article's opening spread, pictured in the screen capture above).
You can read my article on Imbibe's site, though you'll need to pick up the magazine to dig deeper into other drinking destinations around Las Vegas, as well as for a couple of other recipes from some of the city's better bars (and I've gotta give big kudos again to Stuart Mullenberg, who shot some really fantastic photos to accompany the story — if you don't already have a subscription to Imbibe
, be sure to pick up this issue for Stuart's photos of Las Vegas bars if nothing else).
By Any Other Name, created by Sean Bigley
(makes enough for 2 drinks, or one really big one)

2 1/2 ounces Hendrick's gin
1/2 ounce St. Germain
1/2 ounce fresh lemon juice
2 ounces Sence Rose Nectar
1 dash pomegranate syrup (I used grenadine, which is pretty much the same thing)

Combine ingredients in a shaker and fill with ice; shake well and strain into chilled cocktail glasses. Go to town with the garnish, as above.
This drink is part of 30/30, a series of 30 drinks in 30 days — or as much as I can keep up before collapsing in a weary, booze-addled heap.