Back when I posted about the Charlie Chaplin, commenter Duff posed the great apricot brandy question, to wit: when you see "apricot brandy" listed in a recipe, does it mean the sweet apricot liqueur (often) made with a brandy base? Or does it mean a true apricot brandy — in other words, a dry apricot eau de vie?
Sometimes, the authors of cocktail guides are pretty specific about what they're calling for, though the apricot brandy question is often kind of confounding. Here's a drink that does specify the type of spirit that is intended, along with a look at the good stuff that can happen when you ignore the original instructions.
The Hotel Nacional Special first appears in Charles H. Baker's The Gentleman's Companion
, from 1939. Skipping Baker's long story (which is worth looking up if you have the book), here's his original recipe:
Wil P. Taylor's Hotel Nacional Special

Carta de Oro Bacardi [gold], 1 jigger
Lime, juice 1/2
Fresh pineapple juice, 1 jigger
dry apricot brandy, 1 tsp

Shake with cracked ice, strain, serve in a tall cocktail glass with a stem.
Straightforward, no? I first came across this drink several years ago when Dave Wondrich adapted it for Esquire Drinks
(Wondrich tones up the rum to a full 2 ounces, a move I fully endorse, but otherwise leaves Baker's recipe intact), but held off on making it for a long time, primarily because it took me ages until I got around to picking up some apricot eau de vie. When I did try it, though, I found this drink a lovely thing — not as rich as Baker leads readers to believe, but essentially a daiquiri plushed out with pineapple and with a barely detectable, ethereal stone-fruit element from the eau de vie.
Great — we're done, right? Nope — because even though Baker specifies that this drink should use a dry apricot brandy, many people (including myself) have tried mixing this with a sweet apricot brandy. And why not; sure, it's straying from the letter of the recipe, but if that alteration leads to a satisfying drink, then tinker away.
But tinkering can take you in all kinds of directions. Last weekend, I decided to mix up a bottle of pineapple gomme syrup (which is nothing more than gomme that's had fresh or frozen pineapple soaked in it for a day, and then strained), to play around with in pisco and rum drinks, and basically just to see what happened. While surfing around, looking for appropriate drink recipes, I checked Jennifer Colliau's Small Hand Foods site. Jennifer is an incredibly talented bartender in San Francisco who has been making a fantastic craft orgeat for the Bay Area bar crowd, as well as a pineapple gomme that I have yet to taste. While checking her recipes, I saw that she featured one for the Hotel Nacionale Special that was different from Baker's, though still very much in the same vein; here's hers:
Hotel Nacional Special

1 1/2 ounces rum (white or aged)
3/4 ounce fresh lime juice
3/4 ounce pineapple gomme syrup
1/2 ounce apricot brandy

Shake vigorously and strain into a chilled coupe glass. Garnish with a lime twist.
Jennifer doesn't specify if this is to use a dry apricot brandy or an apricot liqueur; if I'd had my act together more before starting on this post, I'd have dropped her a line to ask, but as it is I'm hopeful that she or someone who works with her (*cough*, Erik, *cough*) will chime in and let me know.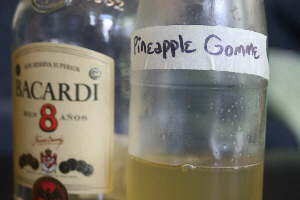 Anyway, this recipe sounded really fantastic, and it's the first thing I decided to make with my brand-new pineapple gomme. On Sunday, I brought a bottle to Dayne & Wendy's house, where they were holding a cocktail party for Chuck Taggart, but before I could step up to the bar to give Jennifer's recipe a try, Keith Waldbauer grabbed a bottle of rum and said he planned to make a great drink: a Hotel Nacional Special. Keith was following Dave's adaptation, as above (though I did manage to flummox him by absent-mindedly stating the proportions from Jennifer's version, which Keith smartly ignored, mostly, while mixing the drink), except for one thing: he used an apricot liqueur, from Giffard. I followed suit with Jennifer's version and with the apricot liqueur, and then proceeded to try them side by side.
While the drink containing pineapple juice had a crisper acidity, the gomme version gave the drink a richer, jammier character. Keith suggested splashing some fresh pineapple into Jennifer's version, to help crisp it up and boost the pineapple flavor, but honestly I was pretty happy.
Though there was one other step to try: using the gomme syrup version with apricot eau de vie. Back at home, I followed the same recipe, except I toned down the brandy to 1/4 ounce to push it back into line with Baker's original formula (and also because an eau de vie's powerful, ghostly flavor can easily take over a drink). While this made a fantastic cocktail as well — drier and lighter than the liqueur version — I did find myself missing the richness of the apricot liqueur and the way it played off the plush character of the pineapple gomme.
So, after all that ramble, which version was my favorite? I'd say the liqueur versions, both of 'em, with the gomme in the lead, though the eau-de-vie versions are certainly no slackers. If I sound too confused it's because I've been trying to cross-compare four similar drinks for the better part of a week, while doing a bunch of other stuff as well; if anybody wants to take a shot at these and compare them, it's a tasty experiment, and one I'd love to hear about.
This drink is part of 30/30, a series of 30 drinks in 30 days — or as much as I can keep up before collapsing in a weary, booze-addled heap.