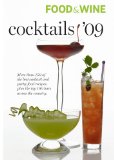 While most of the online coverage I've seen regarding the new Food & Wine 2009 Cocktail Guide
has been in relation to Eric Felten's excellent Wall Street Journal piece, "A Welcome Sign of Vodka's Decline" (though Anita also gives a good rundown of the book over at Married…With Dinner), I thought I'd dip into the book in search of some good recipes.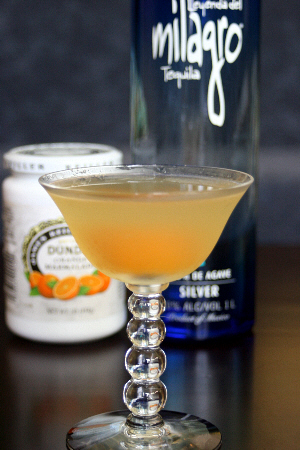 I only started picking up the Food & Wine Cocktails series a couple of years ago, so I don't have much of a long-term perspective on how the drinks have changed over the years. But what I do find appealing is the way the current book is organized, with some themed chapters arranged by individual bartenders — such as the Aperitif section from Jamie Boudreau and the Seasonal Drinks section from Todd Thrasher — while other chapters were compiled by Jim Meehan and include drinks both classic and modern from a range of different bartenders and approaches to mixology.
I've already gone through the book and tagged a number of promising recipes with Post-It notes; here's one that caught my eye: the Flor de Jalisco. Included in the Latin Drinks chapter that was arranged by Death & Co. bartender Joaquin Simo, this original cocktail by Simo is somewhat similar to another drink I really enjoy, Jamie's Marmalade Sour. A basic tequila sour with a citrusy twist, the Flor de Jalisco seems like the kind of cocktail that's inventive enough to appeal to a crowd of discriminating drinkers, yet easy enough to construct so it could be cranked out in quantity.
Flor de Jalisco

2 ounces blanco tequila
3/4 ounce fresh lemon juice
1/2 ounce agave nectar
1 teaspoon orange marmalade

Combine ingredients in a shaker and shake well with ice. Strain into chilled coupe glass and garnish with an orange twist.
I used Milagro blanco, because they recently sent me a sample and I wanted to give it a test drive. I can see some real potential in this drink; when I make it again (and it's good enough to break out a few more times), I might try using lime instead of lemon (though maybe I'm stuck in that tequila = lime mindset), along with a slightly larger dose of marmalade, as its rich citric jamminess is somewhat obscured by the acid from the lemon juice.
Anyone give this a try? Let me know what you think–
This drink is part of 30/30, a series of 30 drinks in 30 days — or as much as I can keep up before collapsing in a weary, booze-addled heap.