In the late fall and early winter, I fell into a swoon regarding the perfect marriage between two ingredients: rye whiskey and apple brandy. While I'd flirted with this combination before, I'd never really explored its potential. By November, though, I was reaching for the black-labeled bottles of Rittenhouse bonded rye and Laird's bonded apple brandy on most nights, trying different liqueurs and other flavoring agents to take the drinks in different directions. While there were a couple of loser drinks in the trials, most came through incredibly well. Here's the drink that first sparked my interest in this flavor combination, a cocktail that I tried several years ago and have kept coming back to on a regular basis: the Diamondback.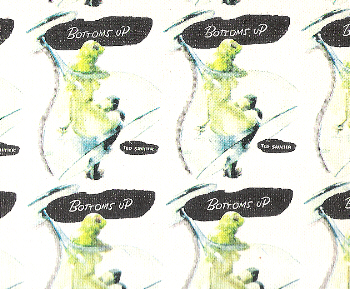 The first appearance I know of for this drink is in Ted Saucier's Bottoms Up
, from 1951, and Saucier describes it as composed of two parts Old Schenley rye whiskey, with one part each of applejack and yellow Chartreuse. I initially came across this drink on Chuck Taggart's blog way back in 2005, when my blog was in its infancy, and the comment I posted for the drink was, I think, my first exchange with Chuck. The recipe he posted (using the more potent green Chartreuse in place of the yellow) had likewise been suggested in a blog comment by Murray Stenson, who had posted the Diamondback on Zig Zag's bar menu. After reading Chuck's post I became an occasional fan of the Diamondback, and even included it in an Imbibe story on applejack a couple years back.
I mention this connection because I'm coming off a busy weekend, one that was filled with eating and drinking with Chuck and Wes (and a whole slew of Seattle cocktail people) during their long-overdue visit to Seattle. Murray even dropped by during last night's cocktail party at Dayne & Wendy's, and at some point Keith Waldbauer mixed up a Diamondback. This may seem a trivial personal detail to many, but the way I've come to know people like Chuck and Murray over the almost four years since I first came across this recipe made covering this drink appropriate, in a sentimental kinda way. Don't care for the sentimentality? Mix one anyway — with the alcoholic firepower supplied by three ingredients in the 100-proof and up range, the Diamondback will put you in a reflective state of mind pretty fast.
Diamondback

1 1/2 ounces rye whiskey (Rittenhouse bonded strongly recommended)
3/4 ounce applejack (Laird's bonded apple brandy strongly recommended)
3/4 ounce Chartreuse (yellow works, but green works better)*

Stir well with ice and strain into chilled cocktail glass. Garnish with a cherry if that's your thing.

* As Dietsch noted when he wrote up this drink for Mixology Monday, this amount of Chartreuse can push the drink over to the sweet side; you may wish to dial it back to a half-ounce or so and see how that suits your tastes.
This drink is part of 30/30, a series of 30 drinks in 30 days — or as much as I can keep up before collapsing in a weary, booze-addled heap.