Another drink from the works of Charles H. Baker, Jr., in this case The South American Gentleman's Companion
. I frequently return to Baker, both for reading enjoyment and for mixological inspiration (and I may still hit him up for one more drink before this 30/30 thing is over), and at the risk of repeating myself by noting that many of his recipes range from slightly off to completely bizarre, Baker remains one of the most original writers to have ever typed with one hand while shaking a drink with the other.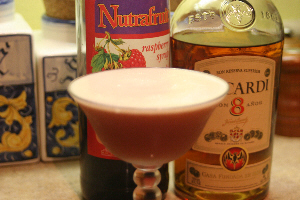 Baker notes that the Cora Middleton "is really a cocktail, not a lady; although somewhere in the dim and distant past it probably was named for some female of consequence to some good mixing-man. Actually it impressed us as being a Clover Club's 1/2-sister, only done with good amber rum instead of gin."
So, a Clover Club, which I adore, made with rum, which ditto, and Baker, who I've already gushed over enough. Baker suggests using Myers' Mona rum, which Stephen Remsberg led me to understand is one of the most highly sought-after rums from the mid-20th century, so I probably won't be shopping around for a bottle to make this drink; instead, I'll follow Baker's instructions to use Carta de Oro Bacardi, or in this case, the Bacardi 8, which no matter what you think of the company's other products, is a very good rum and pretty much indispensable in my home bar. Then, lime juice (or lemon), raspberry syrup, an egg white and a dash of Angostura — about as straightforward yet happy-go-lucky as they come.
I've taken to mixing my Clover Clubs with raspberry syrup instead of grenadine, since the raspberry kicks way more proverbial ass in drinks of this sort than even a top-notch homemade grenadine can. Substituting the mild, vanilla-toned richness of the rum for the crisp backbone of gin, and with the nod of Angostura for depth and complexity, the Cora Middleton is a rich, sly gal, with that silky lusciousness from the egg white but enough kick and sharpness to keep you from getting grabby or anything. A keeper.
Cora Middleton Cocktail

2 ounces rum – use an amber Jamaican or Cuban (-style)
3/4 ounce lime juice
1/2 ounce raspberry syrup
2 tsp fresh egg white
1 dash Angostura bitters

Combine in a shaker and shake, without ice, until frothy. Add ice and shake again for at least 10 seconds, then strain into a chilled cocktail glass. No garnish, but if you get fancy with a drop or two of bitters on the foam then I'm sure Baker wouldn't hold too much of a grudge.
This drink is part of 30/30, a series of 30 drinks in 30 days — or as much as I can keep up before collapsing in a weary, booze-addled heap.