That crack in my last post about mixing up a batch of Fernet Eggnog — or "Ferneggnog", as Foliosus put it in the comments section — got me thinking. A surprisingly good drink I tried recently was a Cynar Flip, suggested to me by Jeff Morgenthaler from a recipe by Kirk Estopinal from The Violet Hour in Chicago, and after yesterday's post I started considering ways to mix something interesting with Fernet Branca.
I'm not alone, of course. The good folks over at Cocktail Virgin Slut posted about a Fernet Flip making its way around Boston way back in the summer of ought-eight; more recently, the Fernet thread over at eGullet featured a recipe for a Fernet Flip served to a patron at The Violet Hour; and last month here in blog-land, Rick at Kaiser Penguin suggested a recipe while inviting everyone to play "whose is bigger?" with their bitters collections.
Thing is, these are all markedly different recipes. The Boston version was simple and straightforward, as befits a flip: two shots o' Fernet, a shot o' simple syrup, dash in some Fee's Whiskey Barrel Bitters
, thrown in an egg and shake the holy hell out of it.
Rick's was somewhat similar, shaving the simple syrup back to a 1/2 once, substituting the Bittermens Xocolatl Mole bitters for the Fee's, and using only the egg white — sounds tasty, but if I'm to do my duty as a cocktail nag (c'mon, it's been a while) then I should point out that for a flip, you better toss the whole egg in the mixing glass.
The Violet Hour recipe was the one that intrigued me: equal parts Fernet & Carpano Antica Formula vermouth, a dash of simple (they call for demerara, but hey, use what you got) and a dash of bitters, plus the obligatory egg.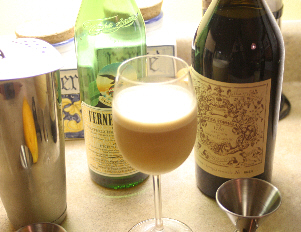 Now if you've sampled the Appetizer a l'Italienne, you'll know that nothing pairs with Fernet Branca like Carpano Antica (fitting, as I believe they're made in the same facility), so right there the Violet Hour recipe had my attention. Plus, there's the sweetness factor — Fernet Branca is bitter, but it's also carrying its own load of sugar; add a good dose of simple syrup and the drink can quickly become cloying. However, if you instead used a full dose of Carpano Antica (which is also sweet, but not over the top), and shave back the simple syrup to the barest touch, then you might have something that works. I also took a note from Rick's drink and subbed the Bittermens for the Fee's, because something about chocolate & Fernet seemed appealing; here's what I mixed up:
Fernet Flip

1 1/2 ounces Fernet Branca
1 1/2 ounces Carpano Antica Formula vermouth
1 dash simple syrup
2 dashes Bittermens Xocolatl Mole bitters (see note below)
1 egg

Combine ingredients in a cocktail shaker; give a good dry shake (without ice) to mix the ingredients, then fill with ice and shake like hell to get it good and foamy. Strain into a chilled wine goblet. Twist a piece of orange peel over the drink and use as garnish.
Chalk this up as another holy union between Fernet & Carpano — the flavor of the amaro is tamed, but not subdued, and the egg gives the drink a weight and texture that makes the Fernet seem like a big, furry puppy dog (just don't look too closely at its teeth). The drink is plenty sweet, and in my opinion could even do without the dash of simple, though you may wish to keep it in for body (and for Fernet beginners). Not sure how the bitters weighed in — this may indeed be a job where something with a deeper flavor like the Fee's Whiskey Barrel may work better.
Anyway, here's a way to drink your Fernet and get a little protein in you at the same time. A keeper.