Hey there – yes, you.
While it's possible you may have stumbled by here while searching for cocktail recipes or some kind of history of drinking, it's quite likely (considering what I've learned about readers of this blog over the past five years) that you're somehow involved in the drinks industry. Perhaps you're a booze blogger (howdy, comrade!), or a bartender or bar owner, or a PR associate for a firm representing a liquor brand or two.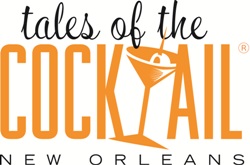 If you fall into any of these categories, I've got two things to say to you: first, welcome; and second, if you're surfing around the Internet looking for information on spirits and cocktails, then you need to come see me at Tales of the Cocktail in New Orleans so we can talk in more detail about this whole online side of the drinks world.
On Sunday, July 25, I'll be moderating "Keeping Ahead in an Online World," a Tales session designed to help decipher the ways online tools such as blogs, Twitter and Facebook can be used to promote your profile as a bartender, your talents as a blogger, and the merits of individual brands and bars.
If you made it to Tales last year, you may have caught a similar session I did with Steve Raye from Brand Action Team and Bobby Heugel from Anvil in Houston; during that session, we talked about the ways the boozy blogosphere has evolved, and how blogs can be essential tools at elevating the profile of a bar (and of individual bartenders), as well as ways liquor brands can effectively engage with bloggers and other online "tastemakers" (apologies for the marketing-ese) to promote a product. It was a sold-out session and from the responses I got, one that was helpful for many folks in the industry.
This year, we're taking the topic a step further, revisiting the world of blogs and the ways they can be utilized to promote brands and careers (along with some examples of recent campaigns that have done it just right), along with ways bloggers can build a readership and get connected in this now-sprawling part of the drinks world. Beyond blogs, however, we're also venturing deeper into the realm of Twitter, Facebook and all those other ways that people are connecting online and sharing information, and looking at the ways they play a part in the cocktail universe.
There's probably nobody better suited to talk about this side of online media better than Lindsey Johnson from Lush Life Productions, my co-panelist for this session. Lindsey and her team have been among the most visible presences (both online and in real life) in the drinks world over the past couple of years, and there's nobody more talented at creating and building an online audience for bars and brands.
Our session is on Sunday at 12:30pm in the Riverview Room at the Hotel Monteleone. I know a lot of folks will either be shaking off their hangovers from the Bartender's Breakfast or preparing for the flight home, but if you're involved in the drinks industry or you're an interested observer as a blogger, take an hour and a half on Sunday afternoon to hear about how you can keep up in a rapidly changing online world.
"Keeping Ahead in an Online World" is sponsored by our good friends at The Dalmore.
Need tickets? Get 'em here (and while you're at it, head over to the event's Facebook page and let us know you're coming) – and I hope to see you in New Orleans.