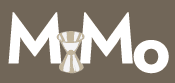 In case you're new to this blog, I'm a longtime fan of tiki, and ever since I got my spiral-bound copy of Grog Log for Christmas several years back, I've kept an ingredient list in my notebook for those times when I'm in grocery or liquor stores that have an inventory leaning to the esoteric, so I'll know if that jar of guava jelly or that box of passion fruit juice has any future in a rum drink.
But some exotic drinks have a "guess you had to be there" air about them, with ingredients that may not be that hard to obtain but that raise significant concerns — such as, "Isn't that stuff crap?" and "What the hell would I do with a whole bottle of that stuff?"
Case in point: the Planet of the Apes, an original drink by Jeff "Beachbum" Berry (it first appeared in Grog Log
, but now it's also in Beachbum Berry Remixed
, an essential volume for any home bar, tiki or otherwise) that lists among its ingredients pineapple juice (no problem), orange juice (ditto), dark Jamaican rum (are you kidding me? I've got loads!) and crème de banana (um, what?). (The drink also calls for fresh lime juice, and in case you didn't read my previous post, the theme for this month's Mixology Monday is "Lime," as selected by this month's host, Doug at Pegu Blog.)
In almost every liquor store I've been to, the only "crème de banana" I've seen on the shelf has been a urine-yellow syrupy liqueur that likely has a flavor closer to that of Juicy Fruit than to a real banana. Once or twice a year, however, I venture north to Vancouver, and as I learned several years ago, in that fair city it's possible to obtain liqueurs produced by the French firm Giffard, including a premium line of liqueurs that are among the best and most evocative of fresh fruit that I've ever tasted.
Enter Giffard's Banane du Bresil, which the company describes as "A blend of slow maceration of best bananas from Brazil, spirit of bananas for an intense aroma, and a touch of Cognac to add body." Figuring that maybe it's time I kept a banana liqueur around the house — either for times when I'm in the mood for a daiquiri with a twist, or for exotic-drink explorations such as the Planet of the Apes, or for just shocking the hell out of guests — I picked up a bottle earlier this month while spending the weekend in Vancouver. To be honest, I picked up two bottles, one of which is currently en route to Southern California, and I can now attest that there's perhaps no better way to provoke a look of curiosity and concern on a liquor store employee's face than by putting two bottles of fancy banana liqueur on the counter.
Anyway, back to the drink. Berry notes this drink is based on the West Indian Punch (though there are apparently a couple of those, in addition to the old-timey one from Jerry Thomas, so as with the rest of the world of drinks, confusion reigns), and the mix of orange, pineapple and banana is one of those classic (and overdone) tropical combinations that has the potential to be banal; toss some strong-flavored rum in the mix, however, and this flavor grows up very nicely.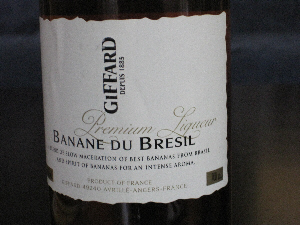 I'm imagining that the 3/4 ounce of crème de banana that the recipe calls for would give the drink an identity that rests squarely on BANANA (flavored), but the Giffard banana liqueur is a much more nuanced thing. Tasting very much like fresh (or, more accurately, cooked) bananas with a little vanilla and ginger in the mix, the liqueur is lovely on its own, but when mixed with other ingredients its flavor is somewhat subdued; fortunately the liqueur is also not oppressively sugary, so it's easy enough to remedy the issue by simply increasing the size of the pour to a full ounce.
Planet of the Apes
From Beachbum Berry Remixed

1 ounce dark Jamaican rum (I used Appleton Extra)
1/2 ounce fresh lime juice
1 ounce pineapple juice
1 ounce orange juice
3/4 ounce banana liqueur
1/2 ounce amber 151-proof rum (I'm unfortunately out of Cruzan, so I used Lemon Hart demerara rum. Don't tell Jeff I messed with his recipe)

Combine ingredients in a cocktail shaker and fill with ice. Shake well, and pour – unstrained – into a tall glass. Garnish with a slice of banana speared to a cherry.
Okay, so I talked more about the liqueur and not so much about the lime. But c'mon — in this drink the lime is there more for function than flavor, providing a little extra acidity so everything else hangs in balance. Lime's flavor is excellent, but it's also a great workhorse of the bar — in other words, perfectly suited for this month's Mixology Monday. Now head on over to Doug's place to see what everyone else has been mixing this month.