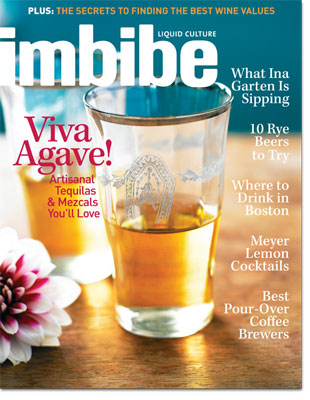 This summer marks five years since Imbibe magazine made its debut, which also means it's been five years that I've been writing for them. To celebrate this milestone, the folks at Imbibe are holding a cocktail contest, with the winning drink taking prime place on the cover of the May/June issue of the magazine.
That issue also happens to be the one that will be distributed to thousands of attendees at Tales of the Cocktail in New Orleans, and there's a reason I'm bringing that up. Y'see, if your cocktail is selected as the winning entry, not only will your drink get the place of honor on the magazine cover, but you'll win a Founder's Day pass to Tales, which covers access to seminars, the cocktail hour, and a bunch of other things guaranteed to be fun and boozy. And since you'll need a place to sleep it off, you'll also get a four-night stay in a King Deluxe room at the Hotel Le Marais in the French Quarter, and you won't even be forced to bunk with me.
To enter, you need to have your recipe finalized and submitted no later than March 10, 2011. The full details and contest rules are here; if you think you've got the winning drink, then get shaking and send in your recipe, and I hope to see you at Tales.