This week-or-so lapse in posting is brought to you by the good folks at Martini & Rossi who — having got wind of Jimmy's proposal to focus on aperitifs for this round of Mixology Monday — kindly invited me to visit their vermouth factory in Italy, then sent me on to Noilly Prat's facility in Marseillan just so I could have a well-balanced post.
Okay, that's not what really happened, but I did actually spend part of last week in Turin, the birthplace of vermouth, where I had the pleasure of touring Martini & Rossi's facilities and taking part in a tasting of assorted wines, essences and other ingredients that go into their rosso, bianco, rose (only available in Europe) and extra dry vermouths, before moving on to spend a couple of days in the small French resort town of Marseillan, where Noilly Prat vermouth has been made since the early 1800s. While I was there working on a story assignment, the timing of the trip so close to Jimmy's aperitif event seemed too good to pass up.
For most North Americans, vermouth is an afterthought — few people have tasted it straight, usually out of some baseless fear that vermouth is a sort of nasty elixir that corrupts martinis. But in much of Europe vermouth is a part of daily life, consumed chilled or over ice as an aperitif, or as part of a simple cocktail in which it appears in a starring role, not just the walk-on it typically has in the U.S.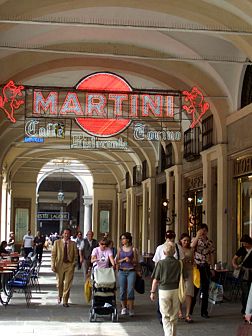 It's a shame that vermouth has reached such a sorry state in the U.S. It was one of the earlier cocktail mixing ingredients, appearing in Jerry Thomas' bar guide, among many other early tomes in the profession. And taken straight, vermouth — good, quality vermouth, well-chilled and well-cared for — is an enchanting beverage. Simply white wine flavored with bundles of different botanicals and fortified with a little neutral spirit (and sweetened, for the rosso and bianco, and colored with caramel, for the rosso), vermouth has an impeccable pedigree. Originally blended by such maitre d'licoristes, or "master drink-makers," as Giuseppe Carpano and Alessandro Martini (the latter apprenticed at the same Turin bar as Gaspar Campari–the bar's no longer there; I looked), vermouth was originally created as a way to take a mediocre wine and make it more palatable. Over time, the quality of the wine improved, and along with it, the quality of the vermouth. Today's vermouths, when treated right, are of impeccable quality, blends of marjoram, cinnamon, chamomile, cloves, quinine, wormwood, and many other ingredients that add layers of spice and bitterness to the finished product. Sipped chilled before a meal or mixed in respectable measure in a cocktail, vermouth is the perfect aperitif.
To see what the Europeans are getting at, it's a good idea to take a fresh approach to vermouth. Start with a new bottle, and keep it chilled. Vermouth is a flavored and fortified wine, so it's perfectly acceptable to pour it neat into a wine glass or over ice in a rocks glass, and maybe garnish with a piece of lemon (for a dry or bianco) or orange (for rosso). If you find the sweetness of the rosso or bianco a bit cloying, try lightening the drink with a splash of club soda. (And as a fortified wine, vermouth also has a limited life span — after opening a bottle, keep it refrigerated and try to finish it off within a couple of months; dry vermouth is excellent as a cooking wine — try it when steaming mussels or making a white clam sauce — and this is a good way to use up old vermouth.)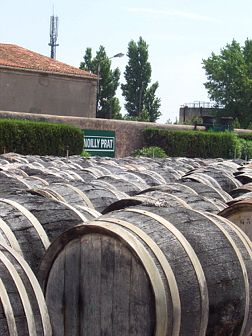 Cocktails that put vermouth at center stage are memorable drinks. One of my favorites is the Red and White (aka the Duplex, the Half-and-Half and the Addington, depending on which cocktail manual you're using) — easy to make, easy to like, and not so much alcohol that it knocks you off your stride while cooking dinner. My wife's favorite aperitif cocktail is the Bamboo, another easily mixed drink that is made bone-dry by combining dry vermouth with a fino sherry. And to put a little jazz in it, try the Trilby, a vermouth-based cocktail with Cointreau and Peychaud's for depth and attitude, with a float of Your Favorite Whiskey to put a snap in its sails.
Red and White

1 1/2 ounces dry vermouth (Noilly Prat is my house brand)
1 1/2 ounces rosso vermouth (Martini & Rossi or Cinzano, as the mood hits; you can also play around with Carpano Antica or Punt E Mes, for additional bitterness, or — go for broke — pick up some Vya)
1-2 dashes orange bitters

Stir with ice and strain into a chilled cocktail glass (or pour into an ice-filled rocks glass), and garnish with a twist of lemon peel.
Bamboo

1 1/2 ounces dry vermouth
1 1/2 ounces dry, fino sherry
1-2 dashes orange bitters

Stir with ice and strain into a chilled cocktail glass; garnish with a lemon twist.
Trilby

3 ounces dry vermouth
1 dash Cointreau
1 dash Peychaud's bitters
1/2 ounce whisk(e)y (I like a blended Scotch for this, but Maker's Mark also works well)

Stir the vermouth, Cointreau and bitters with ice and strain into chilled cocktail glass. Float the whiskey on top, and garnish with a lemon twist.
This round of Mixology Monday is being hosted by Jimmy over at Jimmy's Cocktail Hour. Be sure to stop by and see what other folks are posting.
Next up: Mixology Monday V, hosted by Jonathan over at Jiggle the Handle, on July 17. Topic: Lemon.