Here we are, folks — MxMoIX is upon us, and our good host Michael Dietsch from A Dash of Bitters has chosen as his topic — wait for it — bitters.
If Michael had picked this one out ten years ago — hell, five years ago — it would have been a very sad, lonely little gathering. Sure, you had Angostura, and the dedicated of the dedicated knew of Fee's (with a smaller product line back then) as well as Peychaud's…and that was pretty much it (ignoring for right now that whole category of beverage bitters — the Camparis, Ramazottis, and Suzes of the world).
But how big bitters have become. Three-odd years ago I nearly swooned when I finally found a bottle of Fee's Orange Bitters on the shelf at DeLaurenti's, in Pike Place Market; today I mumble in indecision while trying to make up my mind if I'm in the mood for a dash of Fee's, Regan's, Hermes or The Bitter Truth orange bitters in my martini. There's the bottle of Peychaud's I always turn to, its white paper label stained pink from drops I've dashed over-enthusiastically; the bottle of Fee's Old Fashioned Aromatic bitters that changed the way I think about Old Fashioneds; the brand-new bottle of The Bitter Truth Old Time Aromatic Bitters that are currently redefining my Manhattans; and of course, the hoary old bottle of Angostura, sometimes neglected among all the new upstarts, but always there with a complexity that's mind-boggling, and that makes me appreciate the craft of bittersology (bitters engineering? embittering?) anew each time I taste them.
But let me snap out of my reverie for a minute and give up a couple of drinks. When it comes to really digging the taste of bitters, I find you've got to go completely old school — nothing trots out their flavor like the three best (says I) drinks in mixology: the Old Fashioned, the Martini and the Manhattan.
Erik's covered the old fashioned today, so I'll step right past that one and on to the others.
Orange bitters are, of course, a classic ingredient in a martini, and when made properly — that is, in the old-fashioned way I prefer — the drink is a perfect platform to showcase the taste of the bitters, loaded with enough flavor to keep the bitters from stealing the show, but with a cool, clear stage that lets the bitters show what they're all about.
Martini (Savoy Cocktail Book style)

2 oz gin — (for me, Plymouth is everything I could want in a martini, but Junipero and Old Raj are other favorites)
1 oz fresh Noilly Prat dry vermouth
2 dashes orange bitters

Think ill of Ian Fleming for the pox he's put on the martini while stirring the ingredients briskly with ice, then strain into a chilled cocktail glass. Take an olive and throw it in the trash, and dump the rest of the bottle after it — what do you want to taste, your exquisite gin/vermouth/bitters combo (that's costing you anywhere upwards of $8 if you're ordering it in a bar), or the salty swill from a $2.99 bottle of olives? Thought so. Twist a small strip of lemon peel over the drink. You may drop it in, if you prefer.
Manhattans, on the other hand, are more versatile, from a bitters perspective. Assuming you can find a bartender today who knows the damn things are supposed to have bitters, in all likelihood nearly all Manhattans in current circulation are made with Angostura. That's fine; excellent, even. Angostura is perfectly happy in a background role in the Manhattan; it's that indefinable ingredient that you can't really pick out in the drink (unless you've dashed the hell out of it), but when it's missing, you know something's wrong. By all means, proceed with the Angostura.
Unless you've got one of the aromatic bitters on hand. Fee Brothers' Old Fashioned Aromatic Bitters have a really lovely cinnamon note that can give a warming, let's-enjoy-this-by-the-fire quality to a Manhattan. Orange bitters, too — especially Regan's Orange Bitters No. 6 — give a nice, spry step to a Manhattan, and Fee's Orange Bitters are no slackers, either. And while the combination was long overdue, it wasn't until my trip to New Orleans last summer that I finally had a Manhattan touched with the smooth, sweet flavor of Peychauds.
Like my choice of whiskey in a Manhattan, my choice of bitters depends on my mood (and on my choice of whiskey). For Manhattans I'm all rye, all the time, but different ryes work in different ways. For Old Overholt, the old workhorse of the rye family, Angostura or Fee's Old Fashioned put a little spark in its style; with Wild Turkey, Fee's Aromatic or Regan's orange are what I'll be reaching for. Michter's US 1 likes the more subtle orange aspect of the Japanese Hermes Orange bitters, while Sazerac 6-year-old mixed with Peychaud's makes an especially voluptuous cocktail that you just want to climb into and wallow around in.
Then, there's the bonded Rittenhouse. My favorite Manhattan-mixing rye nowadays, Rittenhouse pairs beautifully with the wisdom of Angostura, and when mixed with Carpano Antica vermouth, I have a cocktail I'd be happy to drink each evening for all of eternity when I'm called to that great happy hour in the sky.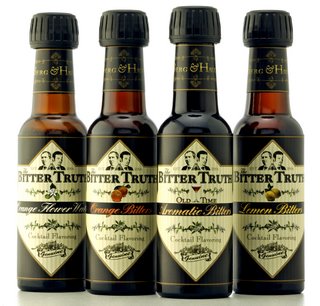 Or had, anyway. See, after nearly a century of inertia, the bitters world is changing rapidly now, and very recently I had my first Manhattan mixed with The Bitter Truth Old Time Aromatic Bitters. If you haven't heard of this stuff, it's one of three new types of bitters produced by Stephan Berg and Alexander Hauck in Munich (the others are orange and lemon), and the Aromatic Bitters make an absolutely astounding Manhattan (an impeccable Old Fashioned, too). Somewhat similar in flavor to Robert Hess' House Bitters (my watery version of the recipe, anyway), the Aromatic Bitters are soft, warm and smooth, with a gentle flavor I'd guess has cardamom / clove / star anise all mixed together. The Orange Bitters, too, are rich and complex, with a flavor somewhere halfway between Regan's and Fee's — not as sharp as Regan's, not as soft as Fee's, with a fresh, citrusy snap that I've enjoyed in the few cocktails (martini, Manhattan) I've used it in thus far. I'm only beginning to try the lemon bitters, but they have a lot of potential as well.
If you've read this far you're probably a cocktail and especially bitters geek like me, so by all means, clickety right here for The Bitter Truth and order some of the best new cocktail ingredients to hit the market in recent memory. Bookmark that URL, too — rumor has it they're working on additional bitters for future release.
Anyway, I'm swooning again, and maybe drooling just a little bit. Manhattan time.
Manhattan

2 ounces rye whiskey (bourbon if you must, but really, rye)*
3/4 ounce sweet vermouth (if you use Carpano Antica, you're sitting pretty; Cinzano and Martini & Rossi also work well)
2 dashes bitters*

FOR CHRIST'S SAKE, PUT DOWN THAT SHAKER! A Manhattan isn't supposed to have a head on it….

Stir well with ice and strain into a chilled cocktail glass. Garnish with a cherry (well-rinsed) or a strip of lemon peel.

* mix & match your brands

And for total fairness and diversity in your liquor cabinet, check these out, too:
Regan's Orange Bitters No. 6 and Peychaud's Bitters
Fee Brothers (makers of the recommended Old Fashioned Aromatic Bitters, West Indian Orange Bitters, Lemon Bitters and Peach Bitters, and the not-so-highly recommended Mint Bitters, which were a nice idea but just don't work so well).
Angostura — found pretty much everywhere
Hermes Orange Bitters — found pretty much nowhere, except Japan and the occasional lucky export market