It's Memorial Day weekend, the unofficial start of summer here in the U.S., and for cocktail geeks everywhere it's a time to be gearing up for what looks to be a very busy season. Already folks in New York City are scouring fine liquor stores, searching for the first shipment of true-blue, bonafide absinthe to (legally) hit the shores in nearly a century — and if you're skeptical, then good for you, but this stuff is straight from Ted Breaux, perhaps the most highly regarded producer of commercial absinthes in the world. Next month, Angostura orange bitters are headed for the U.S. market, along with at least two more highly anticipated products that I can't really go into just yet (but if you want to figure out what I'm talking about, make sure your Imbibe subscription is current, and keep an eye out for the next issue).
And then, of course, there's Tales of the Cocktail. We're less than two months away, and the top cocktail event of the year will be upon us sooner than you know it. There are literally hundreds of people who are coming together to make this event possible, including many bartenders and chefs from the event's hometown of New Orleans, who are bringing out the city's best for the occasion.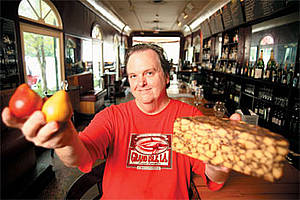 Among this group of locals is this guy. Chris DeBarr is chef at The Delachaise, and last year he was selected Best New Chef in the city by New Orleans Magazine (a fine publication that hopefully won't mind that I'm borrowing their photo for this writeup). Over the past couple of months Chris has taken on two formidable tasks: he's moved into a new home, and he's worked with Darcy O'Neil and myself to create a menu for one of Tales' Spirited Dinners, to be held on July 19.
The idea is simple: a chef comes up with a menu, and the bar advisors (they call us "bar chefs" on the menu, a term I have no problem with except when it's hung around my neck) come up with paired cocktails to serve. But Chris set the bar very high: he came to us with a concept of a meal that would celebrate the legacy of Lafcadio Hearn, a 19th century journalist who, over the course of a decade in the 1870s and '80s, chronicled the lives and culture of the people of New Orleans.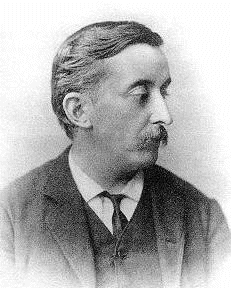 Hearn's life is much more complicated than that, of course, a fact that became clear to me as I embarked on a mission to read his work and better understand his life, so that Darcy and I could relate to the grand vision Chris had planned for the meal. From his birth in Greece to his life in Cincinnatti, New Orleans and Martinique, and culminating in his decision to spend the rest of his life in Japan, Hearn was a writer who saw many parts of the world in a very tumultuous time, and chose to chronicle the lives of those often overlooked by society and ignored in the literature of the day.
Figuring out a menu based on Hearn's life took a lot of work on everyone's part, and a few of the fine details are still being worked out, but I think we've come up with a fantastic selection of dishes and drinks to serve in this tribute dinner.
You can check out the full menu in all its PDF glory here, or if you don't feel like the download, here's the scoop (Chris has also posted about the dinner on his blog):
A Tribute Spirited Dinner for Lafcadio Hearn @ The Delachaise

Welcome cocktail (to be determined)

Amuse-bouche

Flounder Sushi with Rose Petal Rice

Tchoupitoulas Street Guzzle: a New Orleans refresher from the 1850s, made with Cruzan rum and spicy ginger beer

Greek Beginnings from Lefkas

A trio of shape-shifting appetizers with Greek appearances; however, as was always the case with Lafcadio Hearn, appearances can be deceiving…

Apollo's Cup – Plymouth gin, Martini & Rossi sweet vermouth, Patron Citronge and Fee Brothers West Indian Orange Bitters, touched with lemon and lime and lightly effervescent.

Grand Isle, Last Island, Louisiana

Grilled Shrimp, Andouille and Baby Artichoke Skewer over Creamy Buckwheat Polenta with Spicy Salsa Verde

Les Coulisses Cocktail – a wispy and entrancing mix of Plymouth gin, Cynar, Chartreuse and Fee Brothers West Indian Orange Bitters.

His name is Koizumi Yakumo

Wild Salmon marinated in Sake Lees, with Heirloom Tomato, Cucumber and Red Dulse Seaweed, finished with Smoky Umeboshi Plum Sauce

Matsue Melange – Plymouth gin, Momokawa sake and Asian fruits

Oceans, Islands, Swimming in the Cabinet of Memories

White Peach Mousse Chilled between layers of traditional fish-shaped Japanese pancakes with Cherry-Plum Wine Sauce

Pepe Llulla's Swizzle: a soothing drink made with Cruzan Rum, Rhum Clement Creole Shrubb, Fee Brothers Whiskey Barrel-Aged Old Fashioned Aromatic Bitters, Peychaud's bitters, Herbsaint and fresh mint.

and many other delicious flourishes
Cool, huh?
If you're planning on being in New Orleans for Tales, please consider joining us for dinner (and if you're not going to be in New Orleans for Tales, why the hell not?). The tribute to Lafcadio Hearn begins at 8:00 on July 19, and seating is limited to 16 guests; the price is $85 per person, inclusive.
Chris, Darcy and I are planning one hell of a show, and we hope to see you there.
Book your meal here.
(Thanks also to Murray Stenson, for helping me out with the cocktail that became Les Coulisses. Credit where it's due.)