Last Christmas — and the one before that, too, as a matter of fact — I was all about getting into the festive holiday spirit by torching up big bowls of punch. I'm not sure if I'll get to that this year: I have some aged eggnog that should be ready Christmas Eve, and if that doesn't put me in the hospital then I've kind of been jonesing for Reveillon Cocktails and Tom & Jerry on Christmas Day and at other festive events (I even started on the Reveillons early, as should you, after reading Chuck's recent post revisiting his extraordinary contribution to holiday mixology). But should things change, I plan to have some oranges, cloves and cider handy, along with a box of matches. And maybe this year I'll try to lay in some extra apple brandy, just in case.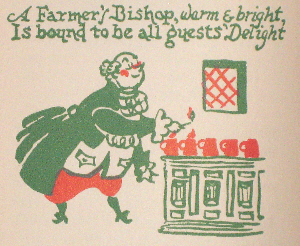 Here's a little novelty I found in an old Peter Pauper Press holiday drink guide I recently picked up on eBay: the Farmer's Bishop (I'm sure it's out there in other books, I just haven't gone looking yet). It's related to the Christmas Rum Punch (aka English Bishop) I wrote about last year, with the only difference between the two being the use of apple brandy instead of rum. I have no gripe with the rum version — damn tasty, that — but I'm really intrigued by how this could turn out. I'd imagine you'd want something like Laird's bonded apple brandy, or possibly something from Laird's line of aged brandies or a Calvados or even Clear Creek's young apple brandy, instead of the Laird's applejack, which won't provide as much of a fruit flavor as this punch might require. If anybody goes for it, please post a note in the comments section.
Farmer's Bishop adapted from The Holiday Drink Book, Peter Pauper Press, 1951


6 oranges
around 4 dozen whole cloves
1 bottle apple brandy
2 tablespoons sugar
1/2 gallon cider
1 teaspoon ground cinnamon
1/4 teaspoon ground cloves
1/4 teaspoon ground nutmeg
and if you have any pimento dram kicking around, an ounce or so would work wonders here

Stick each orange with 8 cloves, and bake them whole in a slow oven (300F, I'm guessing) for 1 hour. Place them in a heated punch bowl and prick them well with a fork. Heat the apple brandy in a saucepan until warm — CAREFUL, especially if you're using a gas stove — and pour over the oranges; sprinkle with the sugar. While warming the brandy, heat the cider to almost boiling. Take 1/2 cup of the cider and mix the remaining spices in it, then set it aside. Carefully light the brandy — I like to use a sugar cube soaked with a bit of the brandy, place it in the bowl of a long-handled spoon, light it and then stand back while placing the burning cube in the boozy punch. Let it burn for a few seconds, then add the hot cider to extinguish the flames; stir in the cup of spiced cider. You can keep it warm in a chafing dish or on the stove (I'd imagine a crockpot would work, if somewhat lacking in pizzazz). Serves 24.