Just a quick word before I move on: viruses suck.
Now that I've explained my absence from posting for much of the past week, I'll note that while I was under the weather the San Francisco Chronicle scooped me on a topic I've been really excited about: some excellent new small-batch bitters coming out of New York, traveling under the name of Bittermens Bitters.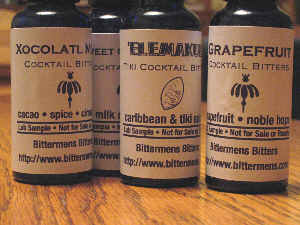 I say "coming out of " in a loose sense; you can't buy this stuff yet. The makers are still working to obtain approval from the feds, and expect their bitters will be on sale in time for Tales of the Cocktail this summer. But their products — a spicy Xocolatl Mole chocolate bitters; a Sweet Chocolate bitters; a hopped-up Grapefruit bitters; and a rotating seasonal bitters (for the fall they had "Squirrel Nut" pecan-vanilla; winter has brought "Elemakule Tiki Cocktail" bitters, flavored with falernum-style spices) — are already popping up in some of the best bars in the country: Death & Company and PDT in New York, Eastern Standard and Green Street in Boston/Cambridge, Alembic in San Francisco and Milk & Honey in London. And now, thanks to a wonderful care package sent my way by the good folks behind Bittermens, their bitters can be found at Zig Zag Cafe and Vessel in Seattle, as well as in my kitchen (and, should you come across him around town, Robert Hess is also packing some samples).*
I'm always excited to see a new artisan cocktail product come out; unfortunately, however, I've learned to temper this enthusiasm, primarily because so many small-batch spirits, bitters and other creations have proved themselves interesting and unique, but not necessarily good.
So it was an even greater surprise to discover how delightful these bitters really are. Many small-batch bitters I've tried err in one of two directions: the flavor is either too delicate and fades the instant it's hit with spirits; or the maker has overcompensated and bulked up some aspect of the flavor (usually bitter) in an effort to keep these fades from occurring. Bittermens Bitters manages to walk this fine line: the Xocolatl, especially, has a very complex balance of flavors ranging from the brightness of cinnamon to the spark of chiles to the depth of bitter chocolate, and when you throw it in a mixing glass with full-flavored spirits, it sails through just fine, with no loss to the balance.
Wanting to see how tough these bitters really were, I even tried a couple of the recipes from Bittermens website, that called for mixing one or the other of the chocolate bitters with full-force bittering agents such as Campari or Amer Picon, or with a full-flavored liqueur such as yellow Chartreuse. In each case, the bitters sailed right through, lending their distinctive flavor to the drink without taking over the show or losing their character.
I'm still in the early stages of using these bitters, but I see a lot of busy winter nights ahead. If you're near one of the bars listed on Bittermens website, go see for yourself what these bitters are about. Or, if you manage to score a bottle, try a little experiment I'm calling the Camerone:
Camerone

2 ounces reposado tequila (I used Don Julio)

3/4 ounce Amer Picon (I used Jamie's replica)
1/4 ounce Licor 43
2 good dashes Bittermens Xocolatl Bitters

Stir well with ice; strain into chilled cocktail glass.
The vanilla of the Licor 43 and the chocolate of the bitters work so well together; to keep it from getting too cloying, the Picon puts a nice orangey bitterness in the middle of everything, and it's all set against the delicate lusciousness of the reposado.
* One more bar in Seattle will have the Xocolatl, once I finish the last of my deliveries.