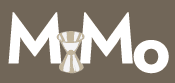 Chuck Taggart is a mighty bitter man. Oh, sure, he's nice enough on the outside, and chatty and friendly and all that, but when it comes right down to it, "bitter" pretty much describes his state of mind.
Today, anyway — because once again it's Mixology Monday (chapter 39, for those keeping score), and Mr. Taggart is our host this month. Chuck has somewhat predictably chosen as the topic for this month Amaro — and I say "predictably" for the following reason:
A couple of years ago, when I first met Chuck in person, we were in New Orleans for Tales of the Cocktail. One night, while Chuck, Wes and I were chatting with a group of folks that included Rick and Darcy, Eric Seed approached with his bag of tricks and asked us if we'd like to try a few of his items. We settled into one of the empty conference rooms, and tried out various spirits — a prototype of the St. Elizabeth Allspice Dram, along with some eaux de vie, and a taste of an Eastern European digestif flavored with, most notably, wormwood, that was so potently bitter that I recall the sensation of my eyeballs withdrawing into their sockets as the dry, lingering bitterness coated my tongue and throat. At the time I swore I'd still taste that bitter finish the next morning, and I gazed around the table to see Rick and Darcy holding tight, their faces drawn against the intense bitterness. But not Chuck, however. Chuck, y'see, was smiling.
Anyway, I knew Chuck would reach deep into his bag of bitter tricks for this round of Mixology Monday, but I'll wave the white flag of surrender before digging into the Malort or the Unicum. Instead of burrowing into the bitter intensity that such spirits provide, I'm going with something lighter, more approachable to the novice, and that's downright goddamn delicious when mixed with different spirits.
While it had its moment in the mixological sun starting a couple of years ago, Aperol has a sunny crispness and bitter-orange vivaciousness that appeal to the palates of amaro novices and experienced enthusiasts alike. True, craft bartenders have mixed the hell out of this since it made a big push starting around '06 or '07, but Aperol does wonderful things: it's an agreeable bitter liqueur for those just starting to explore the category, and its bitter-orange brightness lends spark to cocktails in a way that I can only compare to Amer Picon (though with a lighter biting crispness as compared to Picon's robust depths of flavor). While not as exotic or rare as many other bitter liqueurs, Aperol is, in my opinion, a vital part of any adventurous liquor cabinet.
As I've demonstrated in drinks such as the Camerone and the Theobroma (Picon version), I'm a total sucker for the combination of bitter orange and chocolate. In both of those drinks, I completed the flavor triangle with reposado tequila, which just, oh my god, YES with these flavors, but recently I started thinking about varying from that theme, and taking the orange-chocolate combo in a different direction. Here's my latest shot at it: a drink I'm calling the Two Birds, as it's not only my Mixology Monday contribution, but my entry into the Hotel Monteleone Cocktail Contest.
Two Birds

2 ounces rye whiskey (preferably baby Sazerac)
3/4 ounce Aperol
1/2 ounce sweet vermouth
1/4 ounce creme de cacao
2 dashes Peychaud's bitters

Stir well with ice and strain into chilled cocktail glass. Twist a piece of orange peel over the drink and use as garnish.
It's potent, it's rich, it's orangey, it flirts in the direction of the Boulevardier, and you can just, maybe, barely pick up the taste of chocolate on the finish. If Bittermens Bitters were in distribution, I'd call for the mole bitters as an ingredient, but as it is, I thought it best to enter a drink with ingredients that were easily at hand.
Anyway, that's what I got this round — head on over to Chuck's place to see what other drinks have been mixed for this month's Mixology Monday.