Two years.
I hadn't pointed it out earlier — thanks to all the other things I've been wrangling with lately, I kind of forgot — but this month marks the second anniversary of the launch of Mixology Monday (this month hosted by the wonderful Anna at Morsels & Musings). I'll save the misty sentimentality for another post, but for now, let's just mark the occasion by noting that bloggers keep coming to these things — more than ever, at last glance — and we've somehow managed to keep this little drink-blogging celebration in the air for two years without it plummeting to the ground.
If only the same could have been said for the de Havilland Comet.
With a rush of hoopla and hubris that, in hindsight, harks back to that surrounding the Titanic, the Comet — the world's first commercial passenger jetliner — entered service in 1952, making its maiden BOAC commercial flight from London to Johannesburg in May of that year. It sharply cut flight times, was a model of passenger comfort that can only be dreamed of in today's era of nonexistent legroom and cattle-car conditions, and was so popular that the Queen Mother was an early passenger, becoming the first member of the British royal family to fly in a jet aircraft.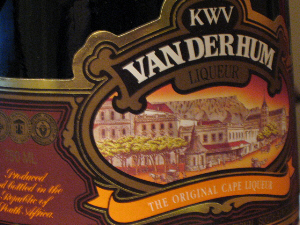 Celebrating this launch — according to David Wondrich's Killer Cocktails
— was this sidecar relation, put together by Eddie "King Cocktail" Clarke at the Albany Club in London, and featuring the South African tangerine-and-herb liqueur, Van der Hum. Tart and fruity, these Comets go down fast.
Just like the winged ones did. Less than a year after commencing service, Comets started dropping out of the sky — metal fatigue, it turned out, a problem remedied in later models (and avoided by competing aircraft manufacturers), but by then the damage was done: the Comet's reputation had taken a hit, and sales never completely recovered.
Fortunately, this Comet is still around:
Comet (adapted from Killer Cocktails, by David Wondrich)

2 ounces cognac
1 ounce yellow grapefruit juice (good luck finding yellow — I had to settle for pink)
1/2 ounce Van der Hum
1 dash Angostura bitters

Shake well with ice and strain into chilled cocktail glass.
Thanks for two years of Mixology Mondays, everyone; now head on over to Anna's place to see what everyone else has been up to.