Fresh off cleaning up my own site for the first time in years, I was thinking it might be time to take a fresh look at Mixology Monday, especially considering that we're now entering the third year of this monthly cocktail event.
Way back in April 2006, eight of us got together online to swap recipes and share experiences on cocktails with pastis. Now, we're regularly drawing around 30 bloggers each month (including most of the original crew), and we've covered everything from aperitifs to winter warmers to cocktails that require careful supervision.
Not imagining this event would be so popular or go on so long, we started out on a fairly simple basis; I've moderated the sessions and kept the archives, and Darcy created a logo that we've updated each month as we've progressed. Recently, though, some of this has started to feel unwieldy, and I think it'd be a good idea to start our third year with a light facelift.
Here's what I'm proposing: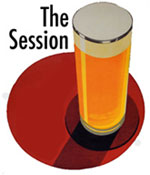 A MxMo logo design contest – the folks who run The Session beer-blogging event and Wine Blogging Wednesdays have spiffy logos that stand up to the tests of time (their graphics are to the right for examples). It'd be great to have something that doesn't need to be updated for each event, so we don't have to bug Darcy every month to come up with a new graphic. The new logo can be inspired by the old one, or totally new — let's see what you've got.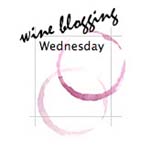 Entries should be PNG, GIF or JPG files, smaller than 20KB and with no dimension larger than 175px. Send entries to me by May 1, by either e-mail to paul [at] cocktailchronicles [dt] com, or by pasting a link for an image in the comments below. Once the entries are in, a winner will be selected by online voting, with polls open from May 2 through May 9; the winning logo will be announced here on May 10, and will make its debut for the May Mixology Monday on May 12.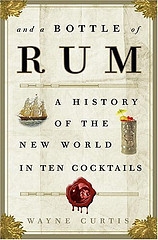 Hosting that event is Trader Tiki, and his chosen theme is Rum. In recognition of this theme, and to help sweeten the contest pot, the winning designer will receive a hardcover copy of And a Bottle of Rum: A History of the New World in Ten Cocktails
, signed by Wayne Curtis. Wayne has kindly agreed to play along with this event, and if you haven't read his fascinating work on the original American spirit, you're really missing out. So fire up the Photoshop (or Adobe Illustrator or whatever the hell it is you design people use) and show us what you've got.
Second, since digging through my archives to find the Mixology Monday links and calendar has become a real pain in the ass, I'm taking a page from the wine bloggers and setting up an independent site that will be focused exclusively on Mixology Mondays; it'll have links to past events, a calendar to upcoming events, and whatever other relevant stuff I can think of to put on there. This won't be up until June, but by announcing it here it'll give me the motivation to actually do it. Tentative URL is mixologymonday.net, which right now just bounces over to my site; if I can get the squatter (*cough* Jimmy *cough*) who snagged mixologymonday.com to give it up, I'll host it there instead.
Anyway, onward with the third year of Mixology Monday. Thanks to everyone who's helped and participated in the past — special thanks to Darcy for keeping up with the logo for so long — and let's look ahead to mixing with rum in May.