I quit.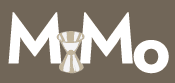 Okay, so I said it a lot nicer than that, and I gave plenty of notice so as not to burn my bridges and all that kind of thing, but while my presentation lacked the cathartic release I'd long hoped for, the fact remains: I'm leaving the safety and security of the day job to claw out a career as a full-time freelance writer. On Thursday.
Hot damn!
(Oh, shit.)
While I'm enthusiastic as all hell, I'm also slightly terrified of ruin and starvation, which means I've been enjoying my share of celebratory good drinks, but ones that don't break the bank. This, of course, means rum.
I tend to go through drink-related phases, related not only to the seasons and particular moods, but also to the different projects I happen to be working on at the time. Last fall, I had a thing for sherry and, as we edged toward winter, absinthe. More recently, while working on a rum story, I've been all about premium rum, and rare has been the cocktail hour in the past few months that hasn't seen me reaching for some fruit of the cane.
You'd think it'd be a lot easier, though. With rum cocktails, it readily becomes apparent that there are very few that really let the spirit shake it all in front of you. Not that I'm complaining — I have a biding love for tiki and exotics, and daiquiris and El Presidentes will always be on my list of favorites. But when you consider the other spirits, there's always at least a few drinks that basically serve up the best the spirit has to offer, with just a few touches of other ingredients that serve more as garland than as modifier. Sure, you can substitute rum for gin or whiskey in a variation on Martinis and Manhattans, and if you use something decent, you'll have a nice drink, but it's not quite the same — that's rum in a walk-on role; for really nice rums, they need the opportunity to shine.
And that's where I kept coming up short. Fortunately, I wasn't alone, and Murray has been willing to help me through the process. First there was the unnamed drink that Keith featured not long ago, with Mount Gay Extra Old touched with Grand Marnier and Cointreau (or, if you've got it, Creole Shrubb does a nice two-in-one job), and a few dashes of Bittermen's Xocolatl Mole bitters. This has morphed into other, simply prepared but absolutely wonderful drinks: the MGEO or Pampero Aniversario with a little Giffard Ginger of the Indies Liqueur and some Bitter Truth Jerry Thomas Decanter Bitters and a lime twist has been a recent favorite. And, to get a little more complex, there's the Coin Toss, from Phil Ward at Death & Co: Scarlet Ibis (or something Venezuelan, if you haven't got it) with Chartreuse and Benedictine, with a good dose of Carpano Antica and some Peychaud's to hold the center.
Ah, but I'm rambling, and drooling as I do so. I've freely stolen from all of these ideas, and compounded something of my own: the Short Timer.
Short Timer

2 ounces Barbancourt 8-year-old rum
3/4 ounce Carpano Antica Formula vermouth
1/4 ounce Giffard Ginger of the Indies (substitute Domaine de Canton)

1/4 ounce Rhum Clement Creole Shrubb
2 good dashes Bitter Truth Jerry Thomas Decanter Bitters

Stir well with ice and strain into chilled cocktail glass.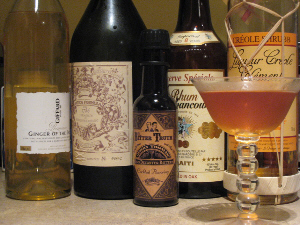 I initially made this without the vermouth, and considered sinking the drink; then, remembering the Coin Toss, I added the vermouth in 1/4 oz increments, enjoying the weird alchemy it sometimes plays with other ingredients. The finished result is mildly sweet, with an almost cola-like aspect to it from the interplay. I used the Barbancourt, thinking that its dry, floral aspect would be good here, but the next time I take a crack at this, I may use something richer, like the Pampero Aniversario. If I had more than about a 1/4 ounce of Scarlet Ibis in the house, I'd trot that out, but whaddaya gonna do.
(And super-premium thanks to my Savoy-stompin' friend Erik for sending the bitters my way.)
Anyway, the Short Timer works — which is something you won't be able to say about me for much longer.
This Mixology Monday is hosted by Blair over at Trader Tiki; head on over and look for his roundup.