It's still Monday here on the West Coast, which means I'm still on time for this month's Mixology Monday. Hosted by Chris Amirault and the gang over at eGullet, the theme for this month is "Dizzy Dairy", which means whatever else you do to your drink, you'd better mix something in it that originated in the vicinity of a farmyard animal's ass. Wow, soy milk is sounding much more appealing right now.
Anyway, there are considerably few milky-type drinks that I'm fond of, and as luck would have it I've blogged about most all of them over the years (how's it goin', Ramos Fizz? Hey, Tom & Jerry, see you at Christmas). Open the category to eggs, and okay, now you're talking, but to keep my MxMo drink in the full spirit of the event, I thought it best to avoid drinks that merely used egg whites, and instead go the full dairy case experience and plop the whole glob of goo in the glass.
Here are a couple of things I tried:
1) Ferneggnog — After a pleasant experience with the Fernet Flip, I thought, "How can you NOT want an eggnog made with Fernet Branca?"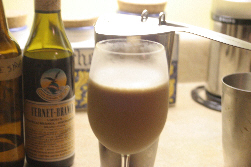 Sadly, though, no. I mixed one this weekend, following the basic eggnog formula passed down over the years: base spirit; sugar; whole egg; and rich milk or cream, all shaken well with ice and garnished with a sprinkle of nutmeg. But while the egg in the Fernet Flip served to lengthen the flavors out, letting the bitter flavor of Fernet recline on the egg's silky chaise longue of texture, the addition of milk & cream seemed to actually dull the Fernet's flavor, and the Ferneggnog was — dare I say it, especially for a drink based on Fernet Branca — boring.
Perhaps there's redemption to be found, but after a few sips I dumped this project down the sink.
Ferneggnog – a sadly failed project

2 ounces Fernet Branca
1/4 ounce simple syrup
1 whole egg
1 ounce whole milk
nutmeg, for garnish

Combine ingredients in shaker and first shake without ice, then fill with ice and shake until frothy. Strain into a goblet and sprinkle with nutmeg.
2) Grown-up Grasshopper: Yes, it's an em-effin' Grasshopper — you want to make something of it?
David Wondrich's contribution to the "Things That Actually Feel Good" piece in the October issue of Esquire contains the Tujaque's recipe for this venerable piece of green fluff, and that got me thinking: while the cognac-bearing Tujaque's recipe looks better than most of the other all-liqueur versions I've seen (and don't even remind me of those boxes of Holland House Grasshopper mix that my parents used to break out every time they had a party in the '70s), it still uses creme de menthe and creme de cacao — two liqueurs that are typically of execrable quality (though there are notable, and usually hard-to-find exceptions). Is it possible to make a decent grown-up (read: less frilly and sugary) version of this drink, using good ingredients?
Let's try. Starting with the Tujaques recipe, I'm keeping the dose of cognac — hell, I'll raise the stakes by making it 106-proof cognac, to help keep everyone else in line. In lieu of the standard green creme de menthe, I'll use the Giffard Menthe Pastille that I picked up in Canada (this liqueur is pretty cool; lighter in texture and much less sugary than other mint liqueurs, it has a clean, crisp, elegant flavor that is close to that of fresh mint — try finding that in a bottle of DeKuyper). And instead of creme de cacao, I'll use a little cacao-nib tincture, the recipe for which was kindly provided to me by Scott Baird at 15 Romolo in San Francisco for an article I wrote about respectable uses of chocolate in cocktails that ran in yesterday's San Francisco Chronicle. Toss in your milk (lacking whole milk in the house, I used a mix of low-fat milk and heavy cream), and a drop or two of green food coloring (which is optional, of course, but c'mon — do you really want a brown Grasshopper?), and, well —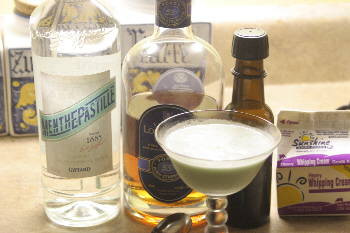 Y'know what? This is pretty damn good. I had to tinker with the first attempt, adding a bit more cacao-nib tincture because I'd low-balled it at first, and then a dollop of rich demerara syrup because, ironically, my grown-up Grasshopper was too dry and needed a touch of sugar to help pull everything together.
Will this become a regular? No — but this is a vast improvement on the standard all-liqueur version of the drink, and is much lighter and crisper, with a more resonant and natural mint and chocolate finish, than one made the standard creme de menthes and cacaos that are available. The flavor is lean, clean and crisp, the cognac keeps it joyously boozy, and I don't feel like I need to brush my teeth after a sip. (To be honest, you could probably make the drink without the dairy component and it might even be better, but that's for another time.) Damn, there's some kick in the old Grasshopper yet.
Grown-up Grasshopper

1 ounce cognac
1/2 ounce Giffard Menthe Pastille liqueur*
1/4 ounce cacao-nib tincture**
1 dash rich demerara syrup
1 ounce whole milk or half-and-half
1 drop green food coloring (optional, but c'mon — lighten up)

Combine ingredients in a shaker, fill with ice, give a good hard shake and strain into a chilled glass.

* Good luck finding this — as far as I know, the only place in North America you can purchase Giffard liqueurs is in British Columbia, and the one store I found in Vancouver that carried this had four bottles with a heavy coating of dust on each.

** To make: pour four ounces of roasted cacao nibs (I picked up a bag at Theo here in Seattle) in a jar and cover with six ounces of Rittenhouse 100-proof rye whiskey. Let soak for two weeks, shaking the jar every day. Strain and bottle for use.
So that's it for September's round of Mixology Monday — head over to eGullet to see what everybody else got up to this month.