I've always hated it when stores put up their Christmas displays right after Halloween, and cities start hanging wreaths and ribbons on everything in sight while everyone is still getting accustomed to the idea of autumn. I know I have good company in this, but this year I'm thinking about the holidays a little bit early myself, for one basic reason: There are free drinks involved.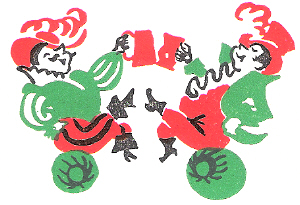 OK, now that I have your attention, the details: this coming Monday, November 16, the Washington State Bartender's Guild (WSBG) has organized An Evening of Holiday Drinks to take place at Barrio (1420 12th Avenue, on Capitol Hill in Seattle) starting at 8:00 PM. Whether you're a working bartender, a drinks-industry type, food & beverage media or just a dedicated craft-cocktail devotee (the WSBG offers associate memberships to folks like these, such as me), you're invited to come sample a few drinks appropriate for Thanksgiving and the winter holidays (whichever one you happen to celebrate at that time of year), and learn a little bit more about them from the guest speaker — me.
Why me? Aside from the obvious reason — because Robert Hess is out of town next week — it also happens that I'm a sucker for holiday drinks, but god help me if I have to choke down another half-assed cranberry punch or cream-bloated eggnog this season. Instead, I'll be talking about a few holiday-appropriate cocktails, along with a few punches both classic and contemporary, and best of all we'll be pouring samples for all attendees, so you can get some ideas for your own holiday events and parties.
As I may have suggested, the event is free, but since space is limited you must RSVP — to do so, e-mail info@wsbg.org or send a text message to 206-579-2491.
And it goes without saying that organizing this event would would be impossible without the generous financial and product support provided by Maker's Mark, Cruzan Rum, Laird & Company, Martin Miller's Gin and Fratelli Branca.
So if you're going to be anywhere in the Seattle area this Monday, November 16, please drop a line and we'll save you a seat — I hope to see you there.