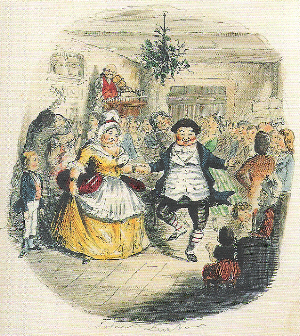 'Twas the night before — okay, it was the night before Tuesday, and still a respectable way before Thanksgiving nevermind Christmas (and come to think of it, not much in that house was quiet at all),  but all mangled holiday story preambles aside, on Monday, November 16, the Washington State Bartender's Guild organized a Yuletide-themed party that put everyone in Seattle in a holiday mood (at least, those 60 or so who braved the rain and wind and had invites to the event).
As I mentioned in a pre-event announcement a while back, this Evening of Holiday Drinks, hosted at Barrio, on Capitol Hill, was the WSBG's kickoff for the holiday season. Why hold such an event in mid-November? Quite simply, because there are a god-awful number of horrendous holiday drinks out there (a Horny Ho Ho Mojito, anyone?), and it's time to push a few good ones into the spotlight they deserve.
The event was sponsored by Maker's Mark, Cruzan, Laird & Co. and Martin Miller's Gin, and over the course of the evening guests were served samples of six punches and cocktails — some classic, some contemporary — that shared one common element: they did not suck.
Almost all of the drinks served that evening have appeared on this blog before; one notable exception is the Palin's Christmas Punch; the recipe for this is listed below.
Here are the drinks we served at the event:
Tom & Jerry – a classic winter warmer, prepared at this event with Maker's Mark and Cruzan Estate Single Barrel rum.
Northern Spy – a contemporary Laird's Apple Brandy-based cocktail created by Josey Packard, now at Drink in Boston, that's excellent in the late autumn / early winter.
Palin's Christmas Punch – created by Milk & Honey bartender Sam Ross, this punch won last year's Martin Miller's Masters competition, and with good reason. Ignore or embrace the inspiration behind the name, depending on your personal politics, but do not ignore this drink — it was the clear favorite at the WSBG event, and one of the few (only?) holiday drinks that uses gin as a base.
Reveillon Cocktail – from my good friend Chuck Taggart, this apple brandy-based drink has become a holiday standard at my house, and hopefully many more after its appearance at the WSBG event.
Christmas Rum Punch – Rum! Fire! What's not to like? Simple yet flashy, and tasty to boot.
Goodnight, Irene – Strictly speaking not a holiday drink, but between the bourbon & Branca Menta this original cocktail from Audrey Saunders tastes like Christmas to me.
Thanks to all who came out for the event, and for those who wish to play along at home, here's the recipe for Palin's Christmas Punch:
Palin's Christmas Punch

12 ounces Martin Miller's Westbourne-Strength gin
12 ounces lemon juice
10 ounce demerara date syrup*
14 ounces Zirbenz Stone Pine Liqueur
1/2 ounce Regan's Orange Bitters #6
1 1/2 ounces absinthe
1 750-ml bottle dry champagne

Muddle the peel of two lemons in a pitcher with around one ounce of superfine sugar in a large pitcher until the mixture is an aromatic paste. Add everything except the champagne and stir briefly with ice; strain into a punch bowl filled with lemon ice** and add chilled champagne. Stir, serve in punch cups, garnish with absinthe-drizzled dates***.

* Demerara date syrup: Make a syrup by combining 2 cups of demerara sugar with one cup water in a saucepan over medium heat, whisking until completely dissolved. Let cool, then add to a container with a cheesecloth bag filled with 1 cup of crushed dates; let sit for three days. Strain to remove sediment before use.

** Lemon ice: Using small molds (I used a muffin tin), place a thin slice of lemon in each compartment and fill with water. Freeze overnight before using.

*** Absinthe-drizzled dates: Spear a date on a cocktail pick (ideally a twig of pine or Douglas fir) and drizzle with several drops of absinthe.