On my list of things I ignored blogging about in 2009 was this: Drinking Lessons at the Sorrento.
That's too bad; this is a great series of events for Seattle-area cocktail people, and the session I attended in November – with Alex Day and Toby Cecchini – was not only wonderfully done, but resulted in me enjoying some of the better drinks I've had in a while, from a Blood and Sand made with Highland Park to Toby's father's take on the gin and tonic, which was probably the best version of this drink I've ever had.
Here's another that's been stuck in my mind for a couple of months, and has been turning up in my cocktail shaker from time to time: the Boukman Daiquiri.
Alex introduced this drink as a sort of hybrid between the world of classic punches, and the more contemporary world of tiki-style drinks. Served at the Franklin Mortgage & Investment Co. in Philadelphia, the Boukman Daiquiri takes the classic daiquiri recipe and tweaks it in a couple of ways that have a huge bearing on its outcome.
First, the standard base of white rum (Alex recommends Flor de Cana, for a damn good reason) is pruned back to an ounce and a half, and the rest is replaced with cognac (Hine is recommended, but fat chance finding that in Washington state; I used Remy VSOP), which puts the drink in that classic brandy / rum combo set of drinks that includes some of the horse-and-buggy era punches, as well as rich wintery things like Tom & Jerry, eggnog and the like.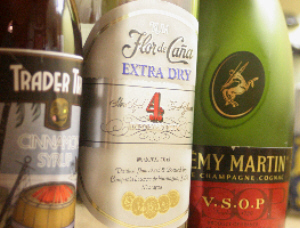 The second tweak has to do with the sweetener; instead of standard sugar or simple syrup, the drink uses cinnamon syrup, which likewise is in the tradition of using spice in classic punches, but is perhaps closer to the use of cinnamon in tiki-style drinks from the 1930s and onward. I've been making my own cinnamon syrup based on the recipe in Sippin' Safari
(briefly: mix one cup each sugar and water over medium heat until dissolved, crunch up a few cinnamon sticks and simmer for a couple of minutes, then let it steep, covered, for three hours before filtering), but tonight I tried the drink with my brand-new bottle of Trader Tiki Cinnamon Syrup, which is assertively rich with cinnamon, but also heavier in sweetness, so you may wish to tip the syrup level back a notch if you're using Blair's stuff.
A classic daiquiri is crisp and light, and while these changes add richness and complexity, the drink still has that bright snap to it that makes it really appealing.
Boukman Daiquiri

1 1/2 ounces white rum (use one with some flavor, like Flor de Cana)
1/2 ounce cognac
3/4 ounce lime juice
1/2 ounce cinnamon syrup

Shake well with ice and strain into chilled cocktail glass. Garnish with a small lime wedge if so inclined.