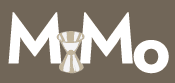 Way back in aught-six, when I first posed the notion of this regular little drinkfest we call Mixology Monday, the first theme picked for the event was pastis. Why pastis? Because that lovely anise flavor that so many have such a love/hate thing for is called for in countless classic cocktails – not that you frequently, or ever, see the word "pastis" in a vintage bar guide like George Kappeler's Modern American Drinks or Harry Johnson's Bartender's Guide. No, in those books and others of their vintage, you'll see the flavor called for as "absinthe", the precursor to pastis and, some would argue, a vastly preferable ingredient.
But back to that first MxMo round: in 2006, absinthe wasn't available in the U.S., or much of the world for that matter, unless you made your credit card weep by ordering a bottle from France – don't get me started on the whole Czech thing – or if you cobbled together an alembic in your kitchen and set to work on your own. But here we are in 2010, and this month's Mixology Monday theme is absinthe (hosted by Sonja at Thinking of Drinking, who ironically did put together a still and make her own), which can now be purchased at most well-stocked liquor stores all across the country.
Folks, please: a quick toast to the times we live in.
As I've mentioned at least a couple of times in the past, absinthe has a rich history as a cocktail ingredient. From the enrapturing flavors of absinthe-heavy drinks such as the absinthe cocktail or absinthe frappe, to the use of absinthe's potent character as a punctuation mark in drinks such as the Morning Glory or the Cocktail a la Louisiane, absinthe can push a cocktail from mundane to superstar faster than just about any other ingredient in the liquor cabinet.
Here's one example: the Modern Cocktail. I fetched this recipe out of Modern American Drinks, by Hugo Ensslin, published in 1917 (not saying that's the first appearance of it, because I haven't bothered to look – but while browsing through Ensslin this weekend I saw the recipe and started feeling thirsty). I'd come across this (or similar) recipes before; while the recipe listed in Ensslin takes the tack of older, spirit-forward drinks such as the Improved Gin Cocktail and the Police Gazette Cocktail, in which the base spirit (scotch whisky, in the case of the Modern – I used Famous Grouse) is lightly adorned with dashes of other ingredients, other recipes for the Modern have amped up the ancillary ingredients to teaspoons and quarter ounces. While I certainly see the reason for doing this in some cocktails, when such a powerfully flavored spirit as absinthe is among the list of ingredients, the effect is akin to playing piano with a sledgehammer – it's just too much of a flavor bonanza for the cocktail to handle while remaining palatable.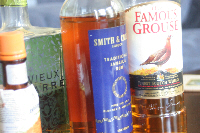 When made with a light touch of absinthe, orange bitters, lemon juice and Jamaica rum (I used Smith & Cross, which you should, as well, due to its extra oomph of rangy flavor), these ingredients sooth the sometimes surly attitude scotch takes on when it enters a mixing glass. In a dash, the absinthe isn't obvious to the drink – there are no fingers of anise aroma creeping out of the glass, and the dense flavor of absinthe doesn't sock you in the gut when you sip the cocktail. Clearly I need to visit other versions of the Modern (as well as ol' Doc Cocktail's adaptation of the drink, the Modernista), but I didn't find a damn thing wrong with the version in Ensslin's book. It tastes old timey, that's for sure, but sometimes that's exactly what I'm looking for.
Modern Cocktail
Adapted from Recipes for Mixed Drinks, by Hugo R. Ensslin

One drink scotch whisky (1 1/2 ounces, or 2 if you're thirsty)
2 dashes lemon juice
1 dash absinthe (I used Vieux Carre, as it was what I had in the dasher bottle)
2 dashes Jamaica rum
1 dash orange bitters

Shake well with ice and strain into a chilled cocktail glass. Ensslin recommends serving with a cherry, which I ignored.
I know, the theme is absinthe and I use one damn dash. Sue me, or better yet, head over to Sonja's place to see what other absinthe-fuelled drinks folks came up with for this Mixology Monday.