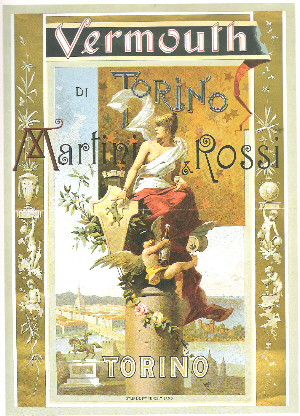 I love it when someone lectures me about vermouth.
It's happened a couple of times recently; a few weeks ago, when a guy sitting at the bar at Zig Zag decided it was his duty as a cocktail geek to put this random stranger sitting next to him (me) on the path to good drinking by relating that so many people — myself included — are ignorant of how to properly store vermouth and too lazy to figure out the differences between the different styles; and more recently, in the comments on last week's martini post over at Serious Eats.
When I say I love being lectured about this, I'm not being facetious (well, not entirely). While I've written about vermouth and aperitif wines a few times over the years, and prepared a presentation on vermouth for last year's Tales of the Cocktail, I appreciate it when someone offers up stray bits of knowledge about a class of drinks that, just a few years ago, nobody really gave a shit about.
Well, random lecturing strangers, let's make one thing absolutely clear: I give a shit about vermouth and aperitif wines — partially because they're delicious, partially because they're an absolutely essential component in the cocktail world, but mainly because, when you come right down to it, aperitif wines are just so fucking cool — and, whether you're a drink geek zapping out cocktails at home, or a bartender who likes to actually know the ingredients you're working with and how best to serve them, a basic understanding of vermouth and aperitif wine is as important as knowing the differences between bourbon and rye whiskey or which drinks should be shaken and which should be stirred.
A couple of weeks ago I wrote a piece for the San Francisco Chronicle about the class of aperitif wines known as quinquinas and chinati, which includes familiar brands such as Dubonnet and Lillet along with newer arrivals in the U.S. such as Bonal Gentiane-Quina and Cocchi Aperitivo Americano. To dig even deeper into the whole class of aperitif wines, liqueurs and cocktails, on July 24 I'll be joined by Neyah the Great for our session, Art of the Aperitif, at Tales of the Cocktail in New Orleans.
Chances are, if you're reading this blog (I'm assuming I still have readers after my recent shoddy blogging habits), you're already familiar with the way a classic aperitif cocktail such as a Negroni can fire up the palate in preparation for a meal. But the world of aperitifs is wide, and especially today, with more aperitif wines and liqueurs coming onto the market, the time is ripe for really digging into the category. We'll discuss some of the background of these different products, along with some classic ways of preparing and consuming them, but we also don't want to get stuck in the mud of history — aperitifs are a living category of drinks, and they provide an exciting selection of flavors and character to introduce into new drinks, all designed to ramp up the appetite of your guests. We'll be touching on some of the physical ways these types of drinks provoke the palate, and the way a good aperitif actually makes food taste better. And since these drinks are lower in alcohol, and are consumed at the start of a meal, good aperitifs can play a role in helping the business side of a bar or restaurant.
Anyway, those are a few things we're planning on touching on during our session, along with pouring a couple of cocktails and tasting samples of aperitif wines including Noilly Prat Ambre vermouth and the new (to the U.S.) Martini Rosato vermouth. If you're planning to find yourself in New Orleans next month, come check us out.
Art of the Aperitif: Exploring pre-prandial spirits, wines and cocktails
Saturday, July 24, 2010, 3:30 – 5:00 pm
Grand Ballroom South, The Royal Sonesta Hotel
300 Bourbon St., New Orleans
$40 (advance), $45 (door) – tickets may be purchased here