Sorry for the long delay there — I think I'm still in shock from the experience of seeing so many different types of whiskey trotted out at WhiskyFest in San Francisco last Tuesday; that, and from my experience at Bourbon & Branch the night before.
While my liver and I still aren't on speaking terms, I can say that I had a great trip. I got into town on Monday, just in time to check in at the hotel then head over to Absinthe to meet the evening's companions, Anita & Cameron from Married…With Dinner, and Erik Ellestad and his lovely wife, Michele (a surprise to Erik, it being his birthday). Our experience at Absinthe was short, it being closed and all (happy Monday!), but we trundled over to the Orbit Room for cocktails that fell into the the "not bad, but we'll just have one and then move on" category.
After Erik and Michelle headed off for his birthday dinner, Anita and Cameron let me tag along as we headed up the hill to NoPa. I'd read about this restaurant somewhere, and heard only glowing details, but somehow I'd missed any mention of its cocktail list (not surprising — so many reviewers turn a blind eye to that whole side of the business). That was a mistake — they had some really great sounding drinks on the menu, many with house-made bitters. Anita had a Girasol, made with fino sherry, St. Germain and sunshine bitters (made with cardamom and saffron), Cameron went for an Old Cuban and I had an Amarita, made with blanco tequila, Aperol, lime juice and house-made grapefruit bitters (the bartender said there was some sage in the bitters, and I had no complaints). They were fantastic all around.
I'd tell you about the dinner, except since I was dining with two very accomplished food bloggers, I'd probably embarass myself — though I probably couldn't embarass myself any more than I did by hovering over my pear salad and Mediterranean fish stew, looking territorial and making growly yummy sounds as I stuffed myself with scallops and squid, oblivious to all rules of social discourse.
My manners couldn't have been too obnoxious, though, because Anita & Cameron gave me a lift back downtown, dropping me in the middle of the Tenderloin and pointing at the unmarked door for Bourbon & Branch. This is a bar I'd heard and read about extensively since they opened, and during my short time in San Francisco it was at the top of my list of places I needed to try. Fortunately, this being a Monday, the bar was fairly quiet, and I had no problem getting a seat at the bar (the reservation I'd made earlier in the day seemed unnecessary, though on a busier night I can see how they'd be required).
And this visit to Bourbon & Branch was both my pinnacle and my defeat. Pinnacle, because I had the pleasure of being treated like a king by Joel and Eric, the gentlemen working the bar that evening. After an introductory drink I put myself in their hands, and I was really blown away. House cocktails like the Black Manhattan — made with Buffalo Trace bourbon, Averna and Fee's Barrel-Aged bitters — were really astounding. Eric mixed another drink using Michter's rye, Luxardo maraschino and some black liquid from a mystery bottle, then told me it was something made with Belvedere vodka in which had been macerated whole walnuts (green and black, I believe — my notes are a little sketchy), and herbs including mint and rosemary.
And defeat? It was my defeat, simply, because I was so overwhelmed by the quality of the drinks they were serving and their commitment to their craft, that by the time I stopped to think "wait — how much have I had?" the answer was "definitely enough." Fortunately I was sitting next to a couple of guys who were also in town for WhiskyFest and who were similarly in the bag, and together we pointed ourselves in the right direction for our hotels (except for the guy we lost somewhere — but his buddy wasn't concerned, so neither was I). I shrugged off the offer to hang out and drink tequila — probably the best decision I've made in a long time — then made it back to the hotel to crash and then wake up with a headful of thunder and fuzzy memories (thank god for the notebook).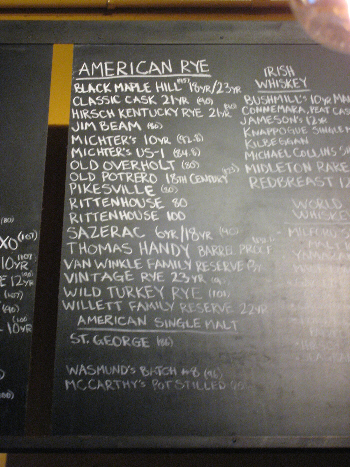 After I managed to slough off most of my hangover — foraging a lunch at the Ferry Building Marketplace helped — and take care of a little work, I headed up to Haight St. to meet Erik and Jimmy Patrick at Alembic. This was another bar I'd been hoping to try, and while I was saving myself for WhiskyFest — and was still a bit tender from the night before — I had a fantastic La Paloma, with house-made grapefruit soda, while Erik and Jimmy went for Sazeracs. I nearly broke down in tears when I saw the list of ryes on their spirits board, and I felt really at home in Alembic's comfortable space.
While the drinks were tasty, the highlight for me was getting to hang out with Erik and Jimmy, who's a dedicated whiskey fan, even if he does prefer the delicate peaty stuff to the awesome vitality of an honest-to-god American spirit. Still, one more scotch drinker meant more bourbon for me, so after settling up Jimmy and I grabbed a cab downtown for the main event.
I had planned on playing it really cool and easy, taking a walk around the room and scoping out the selection before diving in. I made it as far as the Van Winkle table before scrapping that plan. Both Preston and Julian were in attendance, and since I'd spoken with Preston by phone before, I thought I'd stop and introduce myself (and grab a taste of some 20-year-old Pappy along the way). Van Winkle has always had everything I love in bourbons — a rich, buttery base with a nice, soft body and a finish that lasts for weeks.
I could have spent five minutes just nosing the whiskey before moving on, and would have, if I hadn't noticed that right next to Van Winkle was the table for Buffalo Trace. In various places on this site I've been known to wax rhapsodic about the wonders of Weller and the virtues of the Sazerac line of ryes. Buffalo Trace had their top of the line out for WhiskyFest, which of course meant the 2007 Antique Collection, and were pouring tastings before the bottles even hit the shelves. My impulse was to go directly for the Stagg — at 144 proof, the bulldozer of bourbons — but instead I started gentle, with a taste of the Sazerac 18-year-old rye. Christ — I love all the Sazerac ryes (the Thomas Handy is one of my top 3 ryes, ever), but the 18-year-old is really a centerpiece of the Antique Collection, and it's easy to see why. Dry, oaky, almost musty in its austerity, the rye has a beautifully crisp flavor that really primes the palate. It was hard to tear myself away from the Sazerac, but for the sake of the Stagg, I managed it, and JESUS! was that a big bunch of whiskey in the glass. At 144 proof, this bourbon is afraid of nothing, and it had this amazing aroma of pipe tobacco that made you just want to settle down with a glass and spend some time getting acquainted. This is probably gonna be my Christmas present to myself this year, assuming I can find a bottle.
After Van Winkle, Sazerac and Stagg, it could have all gone downhill, but there were so many fantastic whiskies being poured that it was easy to just roam and talk and taste. I estimate I tasted around 35-40 whiskies during the evening, ranging from Stranahan's Colorado whiskey to 40 Creek Canadian whiskey (which I'd previously enjoyed at Tales of the Cocktail) to Jura single malt (a "highland from an island," poured by Willie Tait), to a trio of Mackillop's Choice Single Cask whiskies (poured by Lorne Mackillop himself — thanks to Jimmy for making the introduction), and another trio of Old Pulteney.
But while I stepped around the map a bit, American whiskies are where my main interest lies, and I had some really fantastic stuff that I'll likely never see again. From tasting Woodford Reserve's four-grain and Sonoma-Cutrer Finish whiskies (the latter finished in used chardonnay casks, which gave the bourbon a bright, fruity complexity) to the 23-year-old Evan Williams Blue Label (107 proof, really rich on the nose and very spicy, with fistfuls of licorice and molasses and a finish that followed me home to Seattle — only $350 a bottle, available at Heaven Hill Heritage Center and in some foreign markets), there was a lot to enjoy.
But this was one of my favorites, partially because I wasn't supposed to have it and partially because it's my most favorite of whiskies, a rye: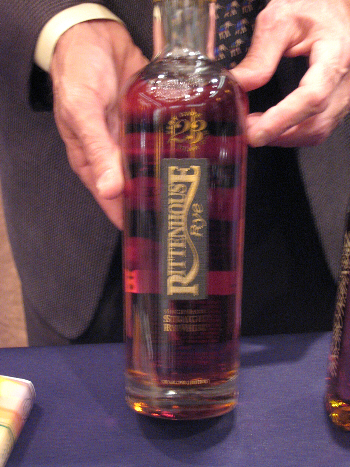 The photo is blurry because Larry Kass was trying to keep it out of everyone's sight after pouring me a taste — Rittenhouse 23-year-old Single Barrel straight rye whiskey, new on the market and a steal at $160. He only had two bottles on hand, and they were under the table, sharing space with two bottles of another new Heaven Hill bottling, Parker's Heritage Collection Cask Strength bourbon, named for master distiller Parker Beam. The rye had Rittenhouse's characteristic bright spicy kick, but at 23 years in the wood it was really mature, with leather and chocolate bouncing around with that spiky rye character, proving that while a rye whiskey can be fully matured, it can still keep a lot of attitude. And the bourbon — oh, the bourbon … bright and floral on the nose, but with a rich, lively spiciness on the palate. I'm always saying nice things about the products put out by Buffalo Trace, but Heaven Hill deserves a lot of praise for what they've done with whiskey.
Amid all this, I kept bumping into people I knew, and people I'd been wishing to meet for a long time. It was great seeing Camper English, Martin Cate and Jacques Bezuidenhout again, and meeting Marcovaldo Dionysus for the first time. And in between there were seminars, with Fred Noe and Richard Paterson, and Larry Kass and Parker Beam.
I'd like to say I finished up with a dash to Cantina (it was only around the corner from my hotel, for Chrissakes) and another to Absinthe, plus the Bourbon & Branch after-party, but really, I was done (and I'd been very restrained, only finishing 4 of the quarter-ounce samples I'd been poured). After a beer at the hotel bar with Jimmy and his buddy Pete, I called it a night.
Stagg — Sazerac — Rittenhouse 23 — Parker's Heritage Collection … I may need to expand my Christmas list this year.