No, it's not the Dark & Stormy.
Though you could be forgiven for thinking that, based on the headline and on that notation on the calendar that today is Mixology Monday, which happens to be hosted this month by RumDood, who has chosen Ginger for this month's theme. So, ginger plus rum (minus the dood), plus some boilerplate meteorological bally-hoo in the introduction? Surely I'm leading up to Gosling's & Barritt's, right? The classic Dark & Stormy? Or some close approximation, correct?
Eh….maybe. I came across this drink a little over a year ago, while working on the cover feature for the July/August 2008 issue of Imbibe, about liqueurs. One of the products I was covering was the relatively new (or newly reformulated, depending on how you look at it) Domain de Canton ginger liqueur. Desperate for a new and, above all, tasty use of the liqueur, I sent a feeler e-mail out to my good friend Jim Meehan at PDT in New York. Jim pointed me to a colleague of his, Tona Palomino, who was managing the bar at WD-50, and Tona unleashed this drink on me.
Noting that the Stormy Weather is a spin-off of the classic Dark & Stormy, Palomino told me how he swapped Domain de Canton for the ginger beer in that drink, matching it against a good, rich, vanilla-heavy rum like Angostura 1919. For complexity and a peculiar alchemical property, he added a hearty dose of Carpano Antica vermouth, which contributes a firm foundation of flavor but also interacts with the ginger notes in the liqueur. With a touch of effervescence from a splash of soda water, the Stormy Weather is somewhat like a mature version of the Dark & Stormy, though as I've continued to enjoy these over the past year I've come to view the Stormy Weather as something like a worldly Cuba Libre, due to that interaction of ingredients that produces a flavor I can only describe as cola-like.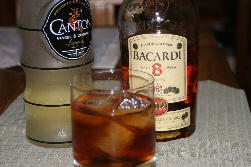 Here's Palomino's recipe, which I included in my Imbibe piece last summer. One note: as listed, this makes a fairly large drink. You can easily scale it back by nudging the rum back to 1 1/2 ounces and the vermouth and liqueur to 3/4 ounce; scale back the bubble water accordingly, but don't skip the lime twist — those bitter oils provide another layer of complexity to an already blammo drink.
Stormy Weather

2 ounces amber rum (Palomino recommends Angostura 1919; I typically use Bacardi 8 to good effect)
1 ounce Carpano Antica vermouth
1 ounce Domain de Canton ginger liqueur
1/2 ounce soda water

Combine first three ingredients in a mixing glass and stir well with ice. Strain into a double old-fashioned glass filled with fresh ice. Cut a thin piece of lime peel and twist over the drink; discard. Add club soda and lightly stir.
I keep coming back to this one, especially during the warm months. To see what other kinds of ginger goodness folks are mixing up this Mixology Monday, head over to RumDood's place for his roundup post.