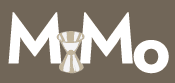 It's been a long, busy summer of mostly ignoring this blog, and if left to my own devices I'd likely let the radio silence continue until well after Labor Day. But in response to several inquiries and gentle nudges following the last round of Mixology Monday — a theoretically monthly event that last took place in May — I once again donned my blogging beanie and found a host (or nine) for upcoming events, the first of which is today (at least it's still today for another half hour or so).
When I put out the call for hosts via Twitter (I'm @cocktailchron, in case you're wondering), I wasn't surprised that the first offer came from Lindsey Johnson, who in her day job — if that's the right term for it — works with the spirits industry as the maven behind Lush Life Productions, and who keeps her social media street cred by not only being a tireless Tweeter (sorry — usually I avoid such new-media lingo, but my amour for alliteration won out) and by participating in social-media focused panel discussions such as the one she joined me on last month at Tales of the Cocktail, but by also publishing the blog, Brown, Bitter and Stirred — which, as luck would have it, is the theme for this month's MxMo.
While it's still August, autumn seems to be creeping in early here in the Pacific Northwest, and dark, boozy drinks laced with a little elaborate Italian liqueur are perfectly suited to the next 10 months of mostly unbroken gray. Here's a drink I was introduced to last fall that I wrote up for the San Francisco Chronicle earlier this year: the Bitter Maestro.
The Bitter Maestro is from Brooke Arthur, who was then at Range and now helms the bar at Prospect in San Francisco. I swung by Range last October on the night before Whiskyfest, to say hi to Brooke and to spend a little time at Range's small, comfortable bar. With practically no direction from me, Brooke brought over the three things I needed most at 9 o'clock on a Thursday evening: salad, ice cream and a cocktail built on a base of cask-strength whiskey.
Brooke said that the Bitter Maestro was related to a drink from John Deragon at PDT, and while the stump-blaster she poured me had a base of 140-plus-proof Thomas Handy Rye, it also works well with something of a more modest (though still mighty) octane, such as Rittenhouse bonded or Russell's Reserve Rye. Playing off this spicy base is a small pour of applejack (though Laird's bonded apple brandy works well, especially if you have a higher-proof rye in the mix), with a little mellowing from Dubonnet rouge and the bitter angle provided by a half-ounce of Amaro Nonino.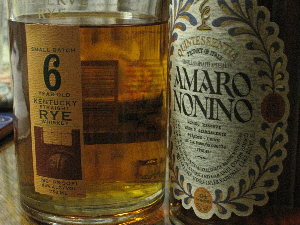 In the realm of bitter liqueurs, Nonino is a bit of a pussycat along the lines of Averna, as compared to the rough-trade bitterness found in stuff like Unicum or Fernet Branca, and Nonino's gentle nip of bitter is a nice counterpoint to the roar of the rye. For a change of pace and to bump up the bitterness a tad, I've tried the Maestro with Bonal Gentiane-Quina substituted for the Dubonnet; it dries out the drink a little more (though it doesn't need it), and gives it a little more back-palate action for those times when the mood takes you there.
Anyway, thanks to Brooke for introducing me to this drink and for sharing the recipe.
Bitter Maestro

1 1/2 ounces rye whiskey (go for higher proof)
1/2 ounce applejack or apple brandy
1/2 ounce Dubonnet rouge
1/2 ounce Amaro Nonino
1 dash pomegranate concentrate or grenadine

Combine in a mixing glass and fill with ice; stir well and strain into chilled cocktail glass. Twist a bit o' lemon peel over the drink and discard, and garnish with a few pomegranate seeds.
Want to see what everyone else has been up to for Mixology Monday? Head over to Lindsey's place and check out the submissions.