Earlier this fall I wrote a piece for the San Francisco Chronicle on a topic that just a few years ago would have made me roll my eyes: California brandy.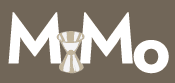 My parents kept a liquor cabinet when I was a kid, but except for a bottle or two of decent whisky, much of the inventory was, I'd later realize, kind of ho-hum: Gilbey's gin, in the frosted bottle that I thought was the height of '70s glamor; Cutty Sark; a few liqueurs as garishly colored and as artificially hued as the shirts in my parents' guests' wardrobes.
Among the regular selection, as I recall, was a squat bottle of E&J Brandy. It would be a few more decades before I'd learn from Jim Meehan that while working in bars in Madison, Wisconsin, in his years before Pegu Club and PDT, bartenders referred to the brand as "Easy Juice" — but I knew from even that young age that there was something suspicious about that particular liquor. As a teenager, sneaking illicit sips from the bottles, I quickly learned the E&J just wasn't for me (and to be fair, had it been a bottle of a truly tasty brandy such as something from Germain-Robin or Pierre Ferrand, I'd likely have thought the same thing). Once I was actually of legal age, and would come home to visit at Christmas, I'd reluctantly add a slug of the stuff to my cup of carton eggnog, figuring the sugar and the fat would somehow render it approachable.
This was all long ago, and once again to be fair, if a glass of E&J were placed in front of me now, I'd probably enjoy it more than I would have back then, even if "enjoy" isn't exactly the word I'm looking for. My point is, for me and countless other drinkers, an introduction to brandy through the lens of the California-made spirit was usually an experience that didn't bear repeating.
Today, of course, it's all different, and there are some excellent brandies made in California; and in yet another case of "what's old is new again," California brandy did enjoy a certain degree of quality and respectability before Prohibition; afterwards, as with so much else, quality was primarily an afterthought. I've mentioned Germain-Robin as the producer of great California brandies, and there are others (read the full article for a few suggestions); and while working on the story, I came across two of my very favorite bartenders in the country who are both working with California brandy for what it can bring to a drink.
Thad Vogler, now proprietor at Bar Agricole in San Francisco, was the one who really got me thinking about California brandy to begin with. Thad's primarily using the stuff from Marian Farms, near Fresno, which has a kind of rugged, Armagnac-style quality to it. It's also a bit drier than some more familiar cognacs (and this also applies to brandies such as those from Germain-Robin). This is a big plus; while I love cognac cocktails, one of my prime concerns (aside from cost) is the overall sweetness level of the finished drink. Hit a cognac cocktail with sweet vermouth and a liqueur, and often the flavors get muddied, much like mixing with bourbon instead of a drier rye whiskey. With some of the California brandies (and with Armagnac, in many cases), there's an earthy dryness that really makes for a more balanced drink, and that enables the base spirit to keep more of its distinctive flavor even when mixed with strong-flavored ingredients.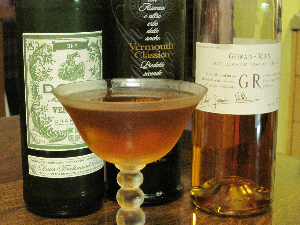 Here's an example of a spirit-forward brandy drink that shines with these drier brandies: the Bombay Cocktail. This is on Bar Agricole's menu, and is adapted from the Savoy Cocktail Book; Agricole makes it with the Marian Farms brandy, and locally made curacao and absinthe, along with Dolin vermouth. For my version, I'm going with Germain-Robin Fine Alambic brandy (now sold as "Craft Method" brandy), Marie Brizard curacao, Marteau absinthe and Dolin dry / Martelletti sweet vermouth, as this is what I have on hand / like / can get.
(I should also chime in here before I get too much further along: this post is part of Mixology Monday, the monthly online cocktail gathering; hosting this round is Dennis at Rock & Rye, and Dennis has chosen "Forgotten Cocktails" as the theme. While both of these drinks can currently be found on bar menus at top cocktail bars on the West Coast, so they're not exactly "forgotten," until recently they were pretty damn close, so cin cin and let's keep playing.)
Bombay Cocktail

1 1/2 ounces brandy
3/4 ounce sweet vermouth
3/4 ounce dry vermouth
1/4 ounce curacao
2 dashes orange bitters
2 dashes absinthe

Combine in a mixing glass and fill with ice; stir well until chilled, about 30 seconds; strain into chilled cocktail glass. Twist a piece of lemon peel over the drink and use as garnish.
This strikes me as a kind of flavor balance between two old favorites, the Saratoga Cocktail (the rye/brandy/sweet vermouth one; there are other drinks with the same name) and the El Presidente, with its balance of dry vermouth and curacao. There is a measured richness to the drink, through the three darker, heavier ingredients, but the dry vermouth helps keep things in line (and I really do think the Dolin would work better here than Noilly Prat — you need light and bright for this drink), and the absinthe adds some complex aromatics to the finished product, along with a snaking taste of decadence.
While working on this article, and wondering who the hell else I should talk to, I went to Portland, Ore. and parked myself at Daniel Shoemaker's Teardrop Lounge. Daniel is another fantastically talented bartender, and has one of the most finely tuned palates I've ever encountered. When I noticed that his bar menu listed a Brandy Scaffa made with Germain-Robin, I knew it wasn't merely by chance that he was using that brandy. Daniel said that especially with a drink such as the Scaffa, which has a large dose of green Chartreuse and is served, sans ice or dilution, at full, just-you-and-god strength, the spark of California brandy just made sense.
The Brandy Scaffa is an old-timey kind of thing; versions of the drink appear in both Jerry Thomas' 1863 guide and in Harry Johnson's Bartender's Manual that appeared a few years later (and I'll spare you the blow-by-blow recap, but here's a thread on the Scaffa on the Chanticleer Society – go, learn something). There are some differences between the two, but Teardrop's version balances between them, notching up the already boisterous character of the drink with a little maraschino liqueur and a good shake of Boker's bitters. This is a drink with tremendous flavor: not for the novice, no way, huh-uh, but as a nightcap for someone who really enjoys the taste of good spirits, the Brandy Scaffa is a fantastic choice – though since it's served room-temp and full-strength, it's also somewhat unexpected. I know it's strong, I know it's warm – if necessary to enjoy this drink, please feel free to grow a pair.
Brandy Scaffa

Adapted by Daniel Shoemaker, Teardrop Lounge, Portland, Ore.

1 1/4 ounce brandy
3/4 ounce green Chartreuse
1/2 ounce Luxardo maraschino
3 dashes Boker's Bitters*

Build ingredients in a small rocks glass, without ice, stirring or garnish…

* Teardrop uses a housemade Boker's bitters, and serves more in the drink, maybe a barspoon; for this version, try Adam Elmegirab's Boker's Bitters, available here and there and way over here.
And there you go – the first round to get the rest of the month underway, and for November's Mixology Monday.