A few years ago at Tales of the Cocktail in New Orleans, I ran into a little bit of an issue.
I was working a couple of events — participating on an absinthe panel with Gwydion Stone from the Wormwood Society (and later Absinthe Marteau) and with Jim Meehan from PDT, and later on hosting a dinner with Jim — but we were short-handed when it came to mixing drinks for all the guests. Fortunately, two bartenders I'd never met before stepped up and volunteered to help at both events, and they proceeded to bang out cocktails by the hundreds, leaving everyone happy and buzzed. After we'd thanked them for saving us from what would likely have been an angry, sober mob, they invited me to check out the gestating cocktail scene in their city. Great things, they told me, were afoot in Los Angeles.
At the time, LA was considered a mixological wasteland by most people on the cocktail circuit, and almost the only Los Angeles bar I'd heard anything good about was Tiki Ti, though I'd heard through friends like Chuck Taggart that something was going on at a place called The Edison, and that a private club called The Doheny was worth looking into. Today, of course, everything has changed, LA's craft bars and bartenders are making up for lost time, and the bartenders who came to our aid that summer — Marcos Tello and Eric Alperin — are at the center of the city's cocktail revival. I'll spare you the longer story of what's been happening in LA — for that, there's a piece I wrote for Imbibe (pdf) last summer, as well as great blogs like Thirsty in LA and Los Angeles Cocktail Community — and instead pitch a couple of drinks your way that these guys have since put on the map.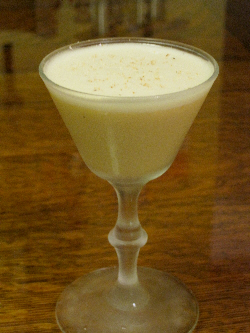 The Los Angeles Cocktail came out of the Hi Ho Club in Hollywood during the 1930s. The club's signature drink was a mix of gin and white port with a dash of orange bitters — haven't tried it, but plan to — but this drink was adorned with the name of the city, which is quite an awesome responsibility for such an odd little number. Here's what's confounding about the Los Angeles Cocktail (which I initially wrote up for Imbibe): first, it's made with a base of bourbon rather than rye whiskey, an atypical move for whiskey cocktails from that era; second, it combines sweet vermouth with lemon juice, which you just really don't see all that often (though there are a few exceptions); third, it throws a whole egg into the mix, which along with the citrus and the vermouth is, in my humble opinion, absolutely bizarre.
But, it works. The oldest printed reference to this drink I found was from Trader Vic's Bartender's Guide from 1947 (but to be honest I didn't perform a full booze-library excavation; with 60 drinks to cover in 30 days, I'm being economical with my time) (*UPDATE: from the comments, Erik Ellestad teaches me not to be lazy; the drink also appears in the "Savoy Cocktail Book" from 1930 and in "Here's How" by Judge Jr., from 1927 — which is all the more embarrassing since Savoy is usually one of the first places I check; I'd just assumed the book predated the drink), and that version calls for a mere dash of vermouth. Marcos Tello tinkered with the formula, boosting the vermouth to a full half-ounce, and calling for the big flavor of Carpano Antica, which is possibly the only sweet vermouth capable of making its presence felt in such a wild drink. Marcos also uses Elijah Craig 12-year-old for the bourbon, which is a favorite around my house; left to my own devices, however, I'm reaching for something in the bonded-or-better neighborhood so the extra firepower will keep the bourbon's flavor from receding – something like Old Fitzgerald if you still want to go smooth and lean, or Old Granddad bonded for a bit more spark, or you can just say what the hell and beat the crap out of the other ingredients with a dose of Old Weller 107, Old Granddad 114 or, if you want to get more modern with the brand, hit it with some Baker's. In think it's absolutely okay to go this route; it's vermouth, it's used to being pushed around.
Los Angeles Cocktail
Adapted by Marcos Tello

1 1/2 ounces bourbon
1/2 ounce sweet vermouth (Carpano Antica preferred)
1/2 ounce simple syrup
1/2 ounce fresh lemon juice
1 dash Angostura bitters (can be skipped if using Carpano)
1 whole egg
Fresh nutmeg and a total absence of fear, for garnish

Combine everything except garnish in a cocktail shaker and shake, without ice, for at least 10 seconds, until the egg has been suitably smacked around and is mixing well with everything else. Add ice to the shaker and shake again, very hard, for at least 10 seconds. Strain into a chilled wine glass or sour glass and garnish.
A more contemporary cocktail that's also a native Angeleno is the Skid Row, from Eric Alperin, who now helms The Varnish. I wrote about this drink a little over a year ago for a gin article (pdf) that appeared in Imbibe, and it's also been blogged about by Chuck Taggart and by Keith at The Speakista, among other folks.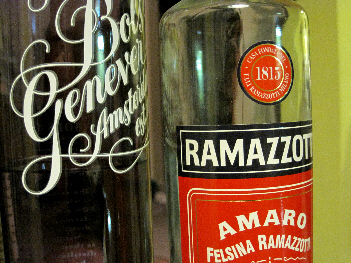 I say it's contemporary — sure, it's of recent provenance, but the flavors of this drink are all vintage. Constructed with a rich, malty base of Bols genever, the Skid Row matches the unctuous richness of apricot liqueur with the bitter-citric nip of Ramazzotti Amaro. Snap an orange peel over the drink (Alperin flames the oils, for that floor-show experience and that smoky, caramelized thing) and you've got a giant bucket of flavor in a little bitty glass.
Skid Row
Created by Eric Alperin

2 ounces Bols genever
1/2 ounce apricot liqueur (Rothman & Winter's the way to go here)
1/2 ounce Ramazzotti Amaro
1 dash Fee Brothers orange bitters
Flamed orange zest, for garnish

Combine ingredients in a mixing glass and fill with ice. Stir well until chilled, about 30 seconds, then strain into chilled cocktail glass. Using a wide swath of orange zest (a vegetable peeler really helps here) and a lit match or non-stinky lighter held just above and adjacent to the drink, briskly squeeze the zest so the oils spray through the flame and over the surface of the drink; use as garnish.
Anyway, these two fine gentleman did me a great kindness several years ago, and it's been my pleasure to see good things come their way since.