Years ago, when first introduced to the offbeat booze that is rhum agricole, I had a hard time figuring out how a spirit so similar in origin to the molasses-based rums I'd recently become so enthusiastic about could have a flavor and character so goddamn different.
Fortunately, my first sip of rhum agricole was poured by Ed Hamilton, who at the time was just starting to import the Martinique rum from Neisson and La Favorite, and who was coming through Seattle on a rainy Labor Day weekend. This was in 2005, I had just started this blog a few months earlier, and Ed had invited me to attend his tasting session at Zig Zag Café. In addition to being an importer for these and other rums, Ed's also perhaps the most ardent and opinionated advocate of rhum agricole I've ever met, the kind of person every novel spirit needs in order to get the kind of audience it requires.
To be honest, I wasn't a fan of this stuff right away. I liked the peppery aroma of La Favorite blanc, which reminded me of a silver tequila, but neither my perspective nor my palate were ready yet to appreciate the vegetal rusticity of rhum agricole's flavor. It took me a couple of years to truly warm up to cane-based rums; I had to come at them from a training-wheels perspective, sipping Ti Punches made with lighter-styled agricoles such as Rhum Clement, softening rhum agricole's contrarian flavor by mixing it with molasses-based rums in classic tiki drinks, and learning to appreciate the nuances of aged cane rums by working through the arguably more approachable (for the novice) Haitian rums from Barbancourt. Best of all, just as I was starting to develop a taste for the earthy flavors of cane rums, I encountered Martinique-made Rhum J.M., which has a line of agricoles ranging from a 100-proof (always extra points in my book) rhum blanc to aged varieties that took my mild infatuation with cane rum and turned it into full-blown love.
Once I got to that point, I found plenty of other people already there. I've already mentioned Thad Vogler of Bar Agricole in San Francisco, and his fondness for artisanal spirits that maintain some relationship of flavor and character with the substance from which they're made. Thad's enthusiasm for rhum agricole is every bit as dedicated as Ed Hamilton's, and talking to Thad and trying some of his drinks helped turn me into an agricole booster. I wrote about cane rums in July for the San Francisco Chronicle; here's a drink that ran with the story, that Thad is serving at Bar Agricole: the Agricole Presidente.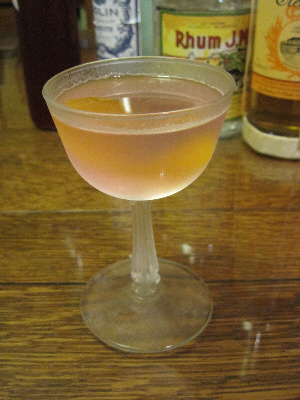 Obviously, this is an agricole twist on the Cuban classic El Presidente, which also happens to be the very first drink I ever wrote up for the Cocktail Chronicles. While I haven't mixed one in quite a while, I've always been a fan of the combination of light rum, dry vermouth and curacao, with a dribble of grenadine more for color than anything else.
Swap the base of uber-light Cuban-style rum for the rangy, knuckles-and-elbows flavor of agricole blanc, and you've got quite a different drink: where classic Presidentes can suffer from flaccidity, as the blank canvas of white rum can lend little to the fleshiness of curacao and the flatness of vermouth, when made with agricole the drink is taut and lean, with the rum's signature grassiness and vegetal tang intact. Overall, it's an excellent take on this cocktail. A couple of production notes: Thad recommends Neisson blanc as the rum of choice; I used Rhum J.M. in mine, because I like it and because I happened to have some on hand. Bar Agricole also uses a house curacao; having nothing like that myself, I opted for Rhum Clement's Creole Shrubb, a curacao-like orange liqueur with a Martinique rum base. Thad also uses a blanc vermouth rather than a dry; the slight bump of sweetness helps make the agricole bite more agreeable, plus the Creole Shrubb is a relatively drier liqueur than most curacaos, so this helps make up the gap. And, of course, homemade grenadine.
Agricole Presidente

1 1/2 ounces rhum agricole blanc
1/2 ounce Dolin blanc vermouth
1 teaspoon curacao
1 teaspoon grenadine
2 dashes orange bitters (I used Angostura orange)
Lemon twist, for garnish

Combine ingredients in a mixing glass and fill with ice. Stir well until chilled, about 30 seconds. Strain into chilled cocktail glass; give that lemon peel a twist over the drink and use as garnish.
While young cane rums are bright, peppery and grassy, older cane-based rums take on the familiar caramel and vanilla notes from barrel aging, but they also turn more serene, less flabby than molasses-based rums in their old age but with wrinkles of flavor that make them more resemble aged brandies or whiskies. Get a good one and it's worth just sipping on its own, but aged cane rums are also excellent in spirit-forward cocktails that lightly adorn the rum's flavor with a few complementing characteristics.
I didn't discover this truth on my own; what really drove it home happened a little over a year ago, when I was sitting at Heaven's Dog in San Francisco and Erik Adkins prepared a Cap Haitien Rum and Honey. I was familiar with the drink, of course; it's from Charles H. Baker's Gentleman's Companion from 1939, a book I've referenced dozens of times over the years, and even if I hadn't seen it there, the drink is simply a rum Old Fashioned sweetened with honey rather than sugar. Baker's drink descriptions are incomparable — of this, also called the Clairene au Miel, he writes it's "a Wary Exotic Contributed by Glenn "Stiff" Stewart of Easton, Maryland, & Miami Beach, Who Spent Much Time in Haiti as American Minister" — but his recipes often leave much to be desired. Baker's version of this drink calls for equal parts white Haitian rum and Bacardi, or any good dark rum; he also stipulates no bitters or garnish to be used, which is an instruction that should be ignored.
The drink was tweaked at Heaven's Dog to use Barbancourt 15, an excellent aged cane rum from Haiti; I typically mix it with the similarly wonderful (and cheaper) Barbancourt 8, though I've also developed a taste for this drink mixed with the aged Agua Libre, a cane-based rum from St. George Spirits in Alameda, California, that is bolder and earthier than Barbancourt. Also, needless to say, go big on the honey for this one; if you're mixing with a good aged rum, you don't want to give the drink a little squeeze from a plastic bear. I use a really dark and rich honey from New Zealand, which was an impulse buy at some point; look for something dark and expensive with an unpronounceable name.
Cap Haitien Rum & Honey (adaptation)

2 1/2 ounces Barbancourt 8 or 15, or other good aged cane rum
1 teaspoon good honey, mixed with an equal amount of hot water for mixability
2 dashes Angostura bitters

Mix honey and water in an Old Fashioned glass and stir to mix; add rum and stir again. Add ice – fewer, bigger chunks are good here – stir to mix & chill.