A little over five years ago, when I first started this blog, mezcal hadn't even risen high enough in the cocktail world to be considered an afterthought. Sure, Ron Cooper had begun importing his Del Maguey single-village mezcals back in the '90s, but these things take time, and while tequila was in full bloom following the turn of the century, mezcal took its time to step into the cocktail-geek spotlight.
I'm running late in getting this post up, so I'll keep it short; I'm also a couple of drinks behind on this 60/30 thing due to taking the day off for Thanksgiving, so I'll toss in a third drink (plus, a bonus / screwup drink that's still kinda tasty) to help move things along.
For the handful of people out there who still haven't ventured to the artisanal mezcal well, mezcal in many ways tastes like tequila without makeup. While a blanco tequila can have flavors of peppers, slate and wildflowers, all on top of a gentle, juicy agave sweetness, mezcal is just kind of more everything — more dark spices, more jammy richness of cooked pears and baked apples, more earthy minerality, more firey, more smoky, more primal, more visceral, more grrrrr…. A single mezcal can have most, or all, or none of these characteristics, venturing out into its own part of the spirituous universe where nothing at all tastes quite the way it does.
Given its potency of flavor, not to mention its cost, perhaps the best way to slip into mezcal mixology is to use it as an accent ingredient, where its rich smoky everything can play off the other flavors in the glass without taking over the show. Here's a drink that uses mezcal as an accent to very good effect: the Red Ant.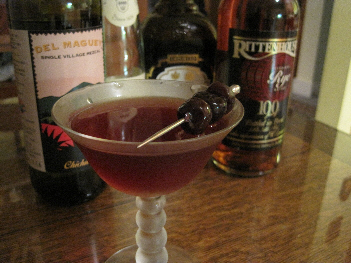 I wrote this up for the September/October 2010 issue of Imbibe, as part of a feature on cocktail bitters. The Red Ant was created by Thomas Waugh, then a bartender at The Alembic in San Francisco but now at Death & Co. in New York. The drink is named for the Rio Hormiga Colorada, or Red Ant River, in Oaxaca, and uses a mere barspoon Del Maguey Chichicapa in a mix that includes big, vibrant flavors from Rittenhouse 100-proof rye whiskey, Cherry Heering and kirschwasser. The mezcal hangs over the drink like a plume of smoke from a wood stove, and the combination of mezcal and kirschwasser — which brings its own ethereal drama to the mix in a big way — is really quite enchanting.
Red Ant
From Thomas Waugh, Death & Co., NYC

1 1/2 oz. rye whiskey (Rittenhouse bonded; failing that, Wild Turkey 101)
1/2 oz. kirschwasser
1/2 oz. Cherry Heering
1 barspoon mezcal (Chichicapa if you got it)
2 dashes Bittermens Xocolatl Mole bitters
–3 cherries skewered on a pick, as garnish. Sneer all you like, but it looks like an ant; besides, I'm still kind of a sucker for Toschi Amarena

Stir well with ice & strain into chilled coupe. Stick that cherry ant in there and shut up for a while about the damn cherries.
Excellent, excellent drink — but there's an accidental variation on this drink that I also like quite a bit. See, I first heard about this drink from Avery Glasser, who with his wife Janet is the mastermind behind Bittermens Bitters. Somewhere in talking about this drink with Avery, there was a mixup in the ingredients, and for a couple of weeks I was sampling this lovely drink using the wrong recipe. Thomas Waugh set me right, and the recipe above is the correct version; but, the "mistake" version also kinda rocked, so I'll pass that along as well. Keep in mind that this alternate doesn't include mezcal, so the whole "Red Ant" idea is out the window, as is the rationale for including this drink in a mezcal post, but hey, it's just liquor.
Mistaken Ant

–same recipe as above, except substitute 1 barspoon cinnamon syrup for the mezcal; Trader Tiki Cinnamon Syrup is quite nice here
Sure, you lack the smoke and a little bit of the complexity, but cinnamon, Cherry Heering and kirschwasser, with some mole bitters in the mix? There's nothing wrong at all with that mistake.
Anyway, the next step in mezcal mixing is often to bump up the mezcal to a full ounce or so, matching it step for step with the mediating effects of tequila. Julian Cox at Rivera in Los Angeles passed along this recipe for his Poblano Escobar, which ran last summer in Imbibe. Julian mixes the drink with mezcal or with blanco tequila; I've made these a few times at home, to try out each variation, and for the most recent round I used equal parts Cabo Wabo blanco (it had been sent as a sample and isn't half bad, so I thought I'd give it a spin in this drink) and Del Maguey Mezcal Vida (not a sample, bought with my own damn cash, and at about $34 a bottle, much more affordable than the rest of the Del Maguey line).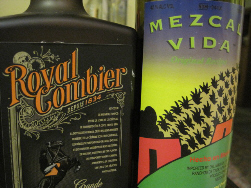 I've also been guilty in the past of being dismissive of muddled ingredients, a position I still hold on a certain level because it's so overdone, and so badly in many places, that I wish it'd be approached more seriously, but I've also sampled some fantastic drinks made with the "garden fresh" approach, so I'd now like to extend a cautious and respectful gesture of welcome to the muddlers of the world. In this drink, poblano peppers and pineapple are both crushed into the mix; hey, it works.
Poblano Escobar
From Julian Cox, Rivera, Los Angeles

2 oz. blanco tequila or mezcal, or some combination thereof
3/4 oz. Royal Combier (Julian's call; I like it, but if you don't have it you can sub Cointreau)
1 oz. fresh lime juice
1/2 tsp. agave nectar
4 chunks fresh pineapple
2 or 3 1/4-inch-think rings of sliced poblano chiles, seeds removed
1/4 tsp. ground cumin

Muddle chiles in a cocktail shaker with lime juice and liqueur. Add pineapple, cumin and agave nectar and muddle again. Add tequila and/or mescal and load up on ice; shake well and double-strain into chilled rocks glass filled with a large cube of ice. Garnish with slices of poblano pepper and orange.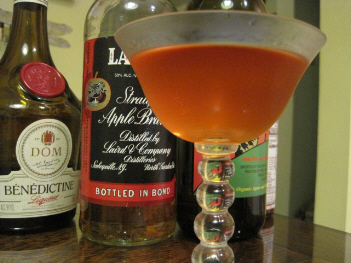 Of course, no discussion of mezcal cocktails is complete without mentioning Phil Ward at Mayahuel in NYC. I've written up a bunch of Phil's drinks in the past, both online and in print, and he's always one of my favorite bartenders to interview (though, I'm ashamed to say I still haven't had the chance to sit across the bar from him). I have another of Phil's drinks coming up later on, but a couple of weeks ago a Mayahuel drink called Jacko's End (created, apparently, on the day MJ performed that moonwalk into the great beyond) was listed on Tasting Table's list of "The Year's Best Cocktails" for NYC. In this one, mezcal is matched against an equal measure of Laird's bonded apple brandy — a combo I could automatically taste in my mind, with that rich body of smoky mezcal up against the sharp bite of apple brandy — fleshed out with a little Benedictine and a couple of dashes of bitters. Simple, basic, classically designed and with premium ingredients: that's all I needed to know.
Jacko's End
From Mayahuel, NYC

1 ounce mezcal (I used Vida, for the reasons stated above)
1 ounce Laird's 100-proof apple brandy
1/2 ounce Benedictine
2 dashes Peychaud's bitters
–pear slice, for garnish

You know the drill – ice, stir, strain into chilled glass, garnish. Like I said, simple.
Between the Benedictine and the mezcal, there's a silky, honeyed texture to this drink. The sharpness of the Laird's bonded and the peppery serrations in the mezcal combine in a really pleasant assertiveness in the drink, followed by the ghostly herbaceousness of mezcal-meets-Benedictine, finishing with that little wisp of smoke. This one's going into the regular rotation.