There's something irrepressibly alluring about apple brandy. Cocktails made with Calvados or American apple brandy have been among my favorites ever since I first dabbled in the drinks world, and every autumn and early winter for the past five or so years, I've found myself besmitten with these drinks all over again.
Here are a few drinks with apple brandy that really hold their own.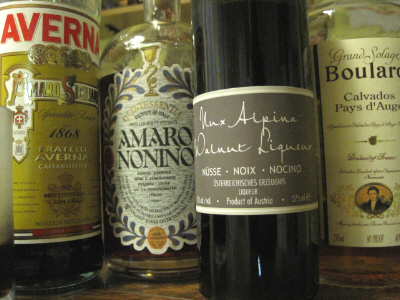 A recent favorite in my rotation is the Royal Union, created by Boston bartender Carrie Cole from Craigie on Main. Carrie gave me this recipe a few months ago, while I was working on a feature on cocktail bitters for Imbibe (and thanks to Lauren Clark for pointing me in Carrie's direction). We wound up not running the drink recipe in the magazine — a couple of the ingredients may take a little searching to find, though they're by no means rare or obscure — but Carrie gave me permission to put it here on the blog instead, where my dozen or so remaining readers can check it out for themselves.
The Royal Union has a few things that make it my kind of ideal drink for this time of year: first, obviously, it's made with Calvados; second, it has not one, or two, but THREE kinds of bitter liqueurs in the mix; and third, it's dosed with Bittermens Xocolatl Mole bitters (which was the reason I'd approached Carrie for a bitters article). Details—
The Royal Union
created by Carrie Cole, Craigie on Main, Boston

1 ounce Calvados
1 ounce Averna
1/2 ounce Nux Alpina
1/2 ounce Amaro Nonino
2 dashes Bittermens Xocolatl Mole bitters

Stir well with ice until chilled, about 30 seconds. Strain into chilled old-fashioned glass – no ice, no garnish.
Even with three kinds of amari, the Royal Union is still very gentle. Amaro Nonino tastes to me like souped-up rosso vermouth, and Averna is rich and chocolatey, with a note I always think of as "cola" but whenever I bring that up to other people I get a blank stare in return. Nux Alpina brings this drink together — a walnut liqueur from Haus Alpenz, this pitch-black stuff has the back-palate bitterness of young walnuts, but a rich complexity that softens the finish, and the bitters add a little cinnamon zing to keep the dark, ponderous flavors in the glass from getting too serious about the whole thing.
A few years ago, while working on an applejack story for Imbibe, I was introduced to another Boston bartender who had an affinity for apple booze: Misty Kalkofen. Now at Drink, Misty is one of my absolute favorite people in the industry, and someone with whom I don't get nearly enough opportunities to work.
At the time Misty was working at Green Street, and she'd come up with a rich, hearty drink that was perfect for cooler months, sweetened with maple syrup and given a French monastic touch with a dollop of Benedictine. At the time I wrote the piece, Misty and I were talking about applejack; nowadays I'm much more likely to use the Laird's Bonded Apple Brandy in pretty much any drink calling for the American style of the spirit, and to my taste it works just dandy in this drink.
Fort Washington Flip
created by Misty Kalkofen, currently at Drink, Boston

1 1/2 ounces apple brandy
3/4 ounce Benedictine
1/2 ounce maple syrup (go for Grade B)
1 whole egg, as fresh as you can possibly manage
— nutmeg, for garnish

Combine everything in a cocktail shaker and shake really hard, without ice, for at least 10 seconds, until the egg is pretty well mixed with the other ingredients. Add ice and shake again for at least 10 seconds; strain into chilled cocktail glass, and hit it with a few scrapes of nutmeg.
Another apple-brandy drink spent years on my "to try" list, but for whatever reason I'd never gotten around to mixing it: the Pan American Clipper. Unlike so many of the other drinks he wrote about in The Gentleman's Companion from 1939, Charles H. Baker, Jr. shed little light on the Pan American Clipper, simply saying it's "From the Notebook of One of Our Pilot Friends Who—when Off Duty—May Seek One."
There's a reason this drink took so long to cross the divide between recipe notebook and cocktail shaker: on paper it simply doesn't sound that exciting. Basically just a Jack Rose with a single dash of absinthe, the Pan American Clipper seemed to offer little that was new or genuinely exciting; for years I looked at the recipe and thought, "I like the Jack Rose, and I like absinthe, but I don't really feel compelled to mix this right now."
Recently, though, I began a studious exploration of Baker's books (or as studious as one can be while sampling through a cocktail book — hey, everyone's gotta have a hobby), and the Pan American Clipper came up again. "Fine," I thought. "A Jack Rose with an attitude, it is." I twisted the knobs a little bit — Baker's proportions are almost always kinda hinky, so I aimed for a little better balance — but otherwise the recipe is his.
Pan American Clipper
Adapted from The Gentleman's Companion, by Charles H. Baker, Jr., 1939

1 1/2 ounces applejack (Baker recommends Calvados; I went with Laird's bonded)
3/4 ounce fresh lime juice
1/4 ounce homemade grenadine (to taste, depending on sweetness)
1 dash absinthe

Shake well with ice, strain into chilled cocktail glass. Proceed.
What I'd forgotten was how effectively absinthe can change everything. The snappy, fruity tartness of a Jack Rose is still there, but the absinthe tinkers with every aspect of the flavor equation. First there's the aromatic tangle of absinthe's ethereal herbaceousness, and then the fat vivaciousness of anise is the first flavor to arrive, coming in just before the citrus can poke its acidic elbow into your palate. Then, on the finish, that anise richness and herbaceous flourish is back, riding out on the sweet fruitiness of the pomegranate syrup.
All in all, the Pan American Clipper is still simply a Jack Rose with a slightly different haircut. It'll never be among my favorites, but it's still pretty goddamn good.