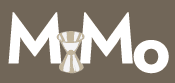 Please excuse the dust — it's been a while since I've been around these parts, and I haven't had a chance to clean up.
On what's become a typical Monday night, I'd be perfectly content to continue ignoring this blog in favor of frittering away my time on even less productive pursuits, but today is Mixology Monday (chapter 56, if anyone's keeping count), and considering that last month was the first time in what's now five years of the event (happy anniversary!) that I missed posting a drink for a MxMo (thanks to a busy travel schedule and my own unshakable laziness), I thought it best not to make that a habit, as well — and so, here we are.
Not that it's an easy theme this month. As chosen by this month's MxMo host, Chris at Spirited Remix, the theme is "Your Best" — as in, what's your very best original drink that you've ever put together. And for me, at least, the only correct answer is: I have absolutely no idea.
When it comes time to mix a cocktail, an overwhelming majority of the time, I'm totally happy to follow a beaten path — timeworn classics like the Manhattan and the Old Fashioned (along with their extended families) are such frequent visitors around my place that they have their own keys for the front door and keep a toothbrush in my bathroom for overnight stays; and I'll occasionally host old friends like the Daiquiri (which also usually brings its large clan for its warm-weather visits) or newer ones like the Revolver, and I'll just keep going back to these familiar drinks rather than start fiddling with something new.
When I do go in my own direction, it's usually just riffing on a theme — such as last summer's tinkering with single-serving punches — or plugging different elements into familiar patterns, such as taking David Wondrich's model of 2 parts spirit / 1 part fortified or aromatized wine / 1 tsp. liqueur / 1 dash bitters and pulling out different things from the liquor cabinet that otherwise would be neglected and sad. I do have a few originals that I like — the Duniette, which I don't mix very often because I'm kind of tired of St. Germain, but otherwise is a lovely cousin of the Jasmine; and the Theobroma, which I still think is kinda rockin — but really, there are others who spend far more time working out new combinations than I do, and I'm happy to be a spectator.
But mentioning the Theobroma reminds me of some experimentation I was doing a couple of years back, when I was really enjoying the interplay of a few favorite flavors, based around the perfect-to-me combination of bitter orange and chocolate. I've riffed on these quite a bit, using Amer Picon (and replica) or Ramazotti or another orangey amaro with creme de cacao, chocolate bitters or cacao-nib tincture, and deploying these in a base of tequila (as with the Theobroma) or whiskey. But chocolate also has an intense affinity for Chartreuse, as well as for the richness of vanilla; and one night, while trying to figure out some way to combine these flavors, I came up with something I kind of really liked, a drink I'll call the 11:59.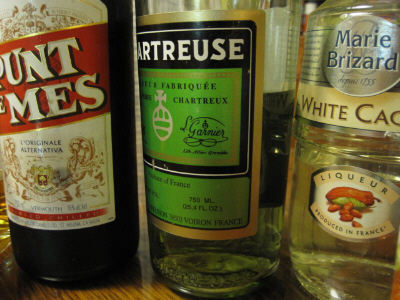 Before I get to the recipe, an explanation: I originally made this with Jamie Boudreau's replica of Amer Picon, which is absolutely delicious, but I'm not using it here — because frankly, it's a pain to make and keep around. For this round, I'm substituting Punt e Mes, which will bring a bitter note without the sweetness of a liqueur; if you try this drink and it's not quite to your liking, I'd suggest substituting Amer Picon or a replica (if you have it), or Ramazzotti with an extra dash of orange bitters. For the vanilla element, I'd initially tried using Navan in a tequila-based cocktail, but that was getting too sweet and fussy; instead, for that big vanilla flavor without added sugar, I went with Angostura 1919 rum for the base spirit, since it's the most intensely vanilla-ey rum I can think of. (Plus, it's my firmly held opinion that there are WAY too few spirit-forward drinks that use rum as a base — c'mon, it's delicious, we've gotta figure out how to use it more.) With those two together, it was just a matter of knocking in the other ingredients to get a drink that features the flavors of bitter orange, chocolate, Chartreuse and vanilla, yet isn't tooth-achingly sweet. Here y'go–
11:59

2 ounces Angostura 1919 rum
3/4 ounce Punt e Mes
1/4 ounce green Chartreuse
1/4 ounce white creme de cacao
2 dashes orange bitters (I used Angostura orange)
— orange peel, for garnish

Pour all ingredients into a mixing glass and fill with ice. Stir well until chilled, about 30 seconds. Strain into chilled cocktail glass; twist orange peel over drink and use as garnish (and now that I think of it, a flamed orange zest wouldn't be out of place right about now).
I'm sipping one right now — hang on — and it's pretty good. Is it my best? Really, I dunno — on certain nights, I'd prefer the Theobroma, on others I'd rather go with some freestyle punch or riff on an improved whiskey cocktail, but really I'd like to think that "my best" is still ahead of me somewhere. The search for that will keep me interested for a good while, I hope, and it may even excite me enough that I come back around to this blog again before the dust builds up too deep on the dashboard and all signs of life flicker out of The Cocktail Chronicles. We'll see.
(Oh, and the name? I'm in the habit of putting off my Mixology Monday contributions until the very latest that one could still consider the day "Monday", and tonight looks like it's no different — so I'm naming this drink after the time that I usually finish up and hit "publish", just before the calendar slips into Tuesday…)
Anyway, head on over to Chris' place to see what everybody got up to this month.